Gone are the days of television, people these days only want to stream videos online because it gives them more flexibility over the timings and the content. YouTube is one of the most popular free video streaming services available online.
Therefore, this might be your chance to get popular from YouTube. It is an emerging market for content creators. If you are one of them, our How to make a youtube channel article will help you for sure. YouTube also pays for its content creators through Google Adsense. Here is how to make money on Youtube through Adsense.
If you are passionate enough, you can make a good amount through YouTube in a very few days. Therefore, we are here with a complete guide on  How to start a YouTube channel. If you already have a youtube channel and you need to start uploading the videos. It is really easy to upload videos on Youtube.
How to Make a YouTube Channel
In order to make a YouTube Channel, you need to follow the steps given below:
1. Click here to open YouTube.
2. Click on the "Sign In" option in the upper right-hand corner.
3. Click on "Add Account" or simply enter your e-mail and password for your Google account that you already own. Sign in, if you already have a Google Account.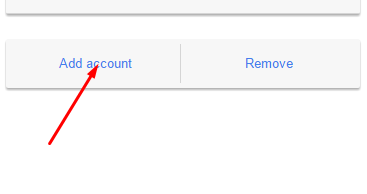 4. Skip steps 5-7 if you have a Google Account.
5. If you don't have an account, click on "Create Account".
6. Fill all the information required and click "Next Step."
7. Your Google Account is now created. Go back to YouTube and "Sign In" with your YouTube account.
8. Click on your profile in the top right-hand corner.
9. Click on Creator Studio.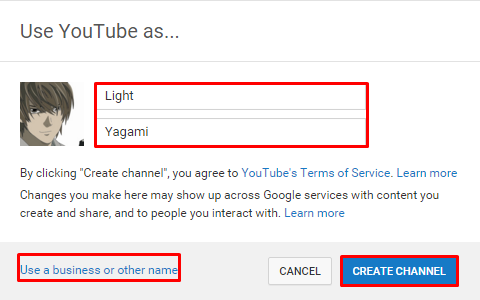 10. Click on "Create a channel".

11. You can create a channel using your own name. Click on "Create Channel".
12. You may also want to use a business or a company name. To do that, click on "Use a business or other name". Select an appropriate category and click "Done". This is also where you can choose your privacy settings so that you know how to make youtube channel private.
How to Set Up a YouTube Channel
After you have made your very own YouTube Channel, you may want to customize it to make it look attractive.

1. Add a Channel Art:
A channel art is shown at the top of each and every channel. This helps you to draw much more attention towards your visitors. In the channel art, always include your channel name. You can add a short description as well.
2. Add a Channel Description:
Add a brief info about your channel. Go to your channel. Then go to "About" Tab. Click on "+ Channel Description" and add a channel description. This helps your visitors to know more about your channel.
3. Add a channel logo:
Go to your channel and click on the pencil on your logo. It is shown in the top left. You need to edit the logo on your Google Plus Account.
Tips for a New YouTube Channel
In order to start your very own YouTube Channel, you need to have content for it to upload. This part totally depends on the topic you choose. Shoot videos, make tutorials or simply create a slideshow. What matters is the content should be appealing to your audience.
1. Decide what you want to do. Start a YouTube channel on what you like the most.
2. Shoot some videos or record your computer screen while giving tutorials.
3. Start editing videos. I strongly suggest you start with Camtasia. It is easy to use and a strong recommendation for beginners.
4. Start learning how to edit and improve the quality of your videos.
5. After you finish editing, you should start rendering your video in the highest quality possible. 1080p is preferred at least. If you can, produce content in 4k (3840x2160p).
6. Learn new techniques to make your videos unique. Go through tutorials for your editing software. Move to a professional editing software like Adobe Premiere Pro. Do whatever you can to make your videos unique. Unique videos tend to have a higher viewer retention. They also appear at the top of search results.
How to Upload Videos to Your YouTube Channel
In order to upload videos on your Youtube Channel, you need to follow the steps given below:
1. Click here to open YouTube.
2. Click on "Upload" in the top right.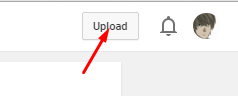 3. Select and drag your video into the website.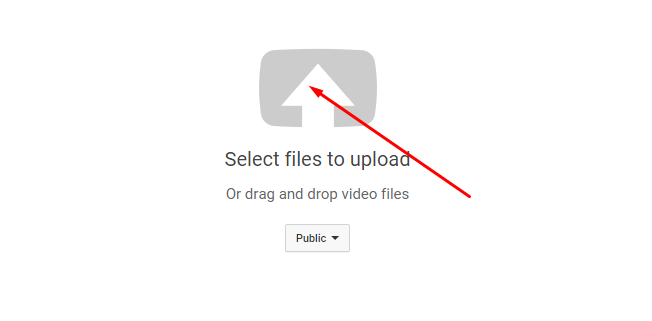 4. The video will start getting uploaded.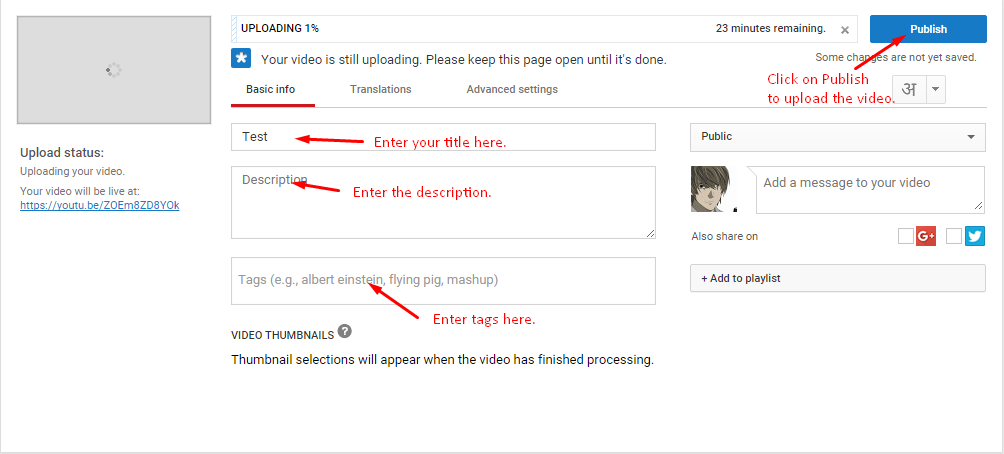 5. In the meantime enter your video title. A short title is always preferable. It should be to the point as well.
6. Enter a short summary about your video in the description. A description should contain at least fifty words. At the end of your description, you can add links to maybe buy stuff shown in the video.
You should also add your social links after that. This helps the visitor to contact you if they need a help of any sort. This also helps in building a good follower base. Do Not add any sort of extra tags in the description. Your video may get removed from YouTube if you do that.
7. In the tags section, enter the tags people generally search for. It should also be related to your video. For example, if you make a video on How to Make a YouTube Channel, you should have tags like YouTube Channel, How To, Start, Upload, Videos, etc.
8. Always add a custom thumbnail for your videos. It helps to get a lot more attention to your video if you have an attractive custom thumbnail.
9. In order to make your video Private or Unlisted, click on "Public" on the right side and select from the drop-down menu. You can also schedule a video to publish it at a specific time.
10. In the Advanced Settings, you can select the category and tweak around with other options.
11. In the Monetization tab, you can choose to monetize your video. This is how you can make money out of your videos.
This is how you can make your own YouTube channel right from scratch. I hope this article on How to Make a YouTube Channel helped you. If you love making videos or want to start making and sharing content you love, YouTube is a great place to start. If you are not getting enough views on your Youtube videos, you need to see this where you will get to know some easy tips to get more views on Youtube.
Running a successful Youtube channel is not that easy as it seems. You have to track the internet trend in your niche and need to create content according to it. Moreover, stats play an important role in it. Here is how to Check Youtube stats which indeed depicts crucial information about your channel.
It is free and also pays you via Google Adsense. Do what you love to do and thanks for reading this article. Do let us know your views or questions in the comments section down below.
Are you bored of streaming videos online?