Looking for the right post on Divi Theme vs Divi Builder 2022. Here is our detailed comparison on which is a better WordPress theme. Read on.
Right off the bat, let me start this article by asking you a question. Oh, don't fret! It won't be Calculus.
If you've stumbled on this article, we'd like to believe you dabble in WordPress themes a bit(or maybe, a lot!). Here it goes, which is the most used WordPress theme?
The Answer Is Divi.
Divi is not only extremely popular but is also the most used WordPress premium theme. The Divi builder is also the customer's favorite choice close after Beaver builder. It is a user-friendly drag and drops theme and builder from WordPress.
There might be some of you scratching your heads, wanting to ask out loud – "What is the difference between the two?" But you wouldn't ask, thinking it's a stupid question.
Believe us, and it is not. It is a valid question, and most beginners get confused about this. Questions like "Do I need a Divi builder plugin if I have the theme?" or "What is the Divi builder?" are common in the Divi community.
We have already done a detailed review of the Divi Theme. Rollover to check the Divi Theme Review complete here.
The lack of information about the plugins and theme can lead to confusion between you and your client. And, we know you do not need an unhappy client on your back.
An unhappy client can make a good day into a bad one(a horrible day!). We wouldn't want that for you.
And which is better? Divi Theme or the Divi Builder? Should you be using the Divi theme for your website or the Divi Builder. Which is the right answer for you? There isn't a sure-shot answer to the question.
But we can make the decision easier by laying out the comparison. Isn't comparisons one of the best ways to choose the better product for absolutely anything?
So, let's begin answering all your questions.
Divi theme Vs. Divi Builder plugin | What's the difference?
The Divi Builder plugin is a stand-alone piece of software, whereas the Divi Theme is an all-inclusive WordPress theme that incorporates the Divi Builder software by default.
This is the primary distinction between the two. You are able to use the Theme Builder on any WordPress website that you own by installing the Divi Builder plugin. This plugin is an independent visual page builder.
The difference between the two is that the Divi Theme is packaged with the Divi Builder and provides all of the features that are necessary for a single, convenient package.
If you download the Divi theme, there is no need to additionally download the Divi Builder because it is already a part of the package. You are able to use the Divi Builder, which is the plugin itself, with a variety of different themes.
Divi Theme vs Divi Builder 2022: Overview
Let's compare the Divi Theme vs Divi Builder with an overview first.
Divi Theme Overview
Divi is a WordPress theme making you the master of the design. The article allows you to make the customization of your choice. It may sound unreal, but you get to decide the minuscule details. It helps you create the website in accordance with your client's vision and gives you room to create and innovate.
You get to play with the appearance of your website in different sections, header, footer, or sidebar. The theme has the option to design the template for your blog pages and your own personalized logos.
While working with most themes, you need to embed a builder page from a third party. Visual Composer is used to optimizing and delivering these themes.
However, this is not the case here. With the Divi theme, Divi Builder comes embedded in the theme. This means you only need to install and activate the theme.
That's it. You're set. You don't need to add any builder page separately. The Divi builder is activated as soon as you activate your Divi theme.
Divi Builder Overview
Now, we still can question – if the Divi Theme has Divi Builder embedded, why do we need to compare them? Because it helps us pick the better and understand the technicalities of both our options.
Divi Builder plugin is a drag and drops page builder available to be used with any WordPress theme. It works as an extension for you to add in the WordPress theme to create more original, creative, and complex layouts that are in sync with the idea of your website.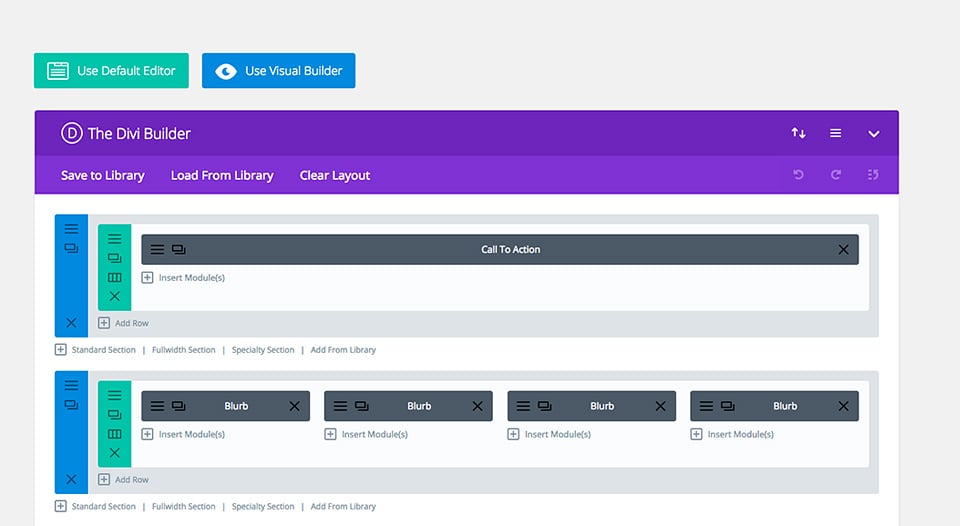 Earlier, the functionality was only available with the Divi theme. But, in the year 2015, WordPress launched Divi Builder as a standalone page builder. The builder started as the backend page builder but is now a full-on front-end visual editor.
Divi Builder is the same as Beaver builder but is just better. The extension works well in sync with other WordPress themes.
You have to install the page builder, and a purple button will be present to activate the builder for your theme. Activate the builder and make the layouts you want. Also, you can deactivate the builder when not needed.
Note: You don't have to install Divi builder if you have the Divi theme. 
When you use Divi Builder on niche themes, you get the best of both worlds.
Every now and then, you'll come across a project that necessitates the use of one-of-a-kind features. Let's look at a real estate website as an example.
Real estate websites will require a property brochure as well as the ability to filter searches based on meta values such as price, number of bedrooms, property type, and so on.
There are as many themes that add this type of functionality as there are plugins or other software that can be integrated.
In fact, there's a fantastic one included with your Elegant Themes membership. ElegantEstate is one of the Elegant Themes' pre-Divi offerings, and it includes a nice filtering and brochure system.
Why Choose Divi?
It is common knowledge that the majority of WordPress page builders make use of shortcodes in order to present content on WordPress websites. One of them is called Divi.
Therefore, in order to display certain shortcodes, you will need to use the plugin. The builder will be of great assistance to you in the event that you later decide to transfer to a different website that was also created using Divi.
You will not be able to view your personalized content until after you have transferred all of your stuff over to that site. Instead of them, you will see a number of shortcodes where they should be.
You can fix this issue by making sure the theme you're using has the Divi builder plugin installed.
After you have integrated the plugin into the new theme, you will notice that all of your styled content, in addition to the most recent features and capabilities of the most recent theme, have been restored.
People had a difficult time moving over to any other themes from Divi before Elegant Themes created the Divi builder plugin. This continued to be the case even after the plugin was introduced.
It would be necessary for you to manually scrape off every piece of content from the older website and transfer it to the newer one. The work was both incredibly time-consuming and very taxing on the body.
You no longer need to go through such a tedious job in order to get rid of the jumbled-up mess of shortcodes because the new Divi Builder has made this unnecessary. Installing the plugin is all that's required to view the customized content you've created in your new theme.
Divi Theme vs Divi Builder: Features
Divi Theme
The Divi Theme is widely recognized for its user-friendly features. With new features and updates released every year- user gets fantastic options to improve their sites every time, it isn't an understatement that some of the features go

unnoticed and Divi have provided an amazing option where users have custom-made features for increasing productivity and design. 
Everything in the Divi theme is customizable. From fonts to colors, and sizing to spacing, everything can be customized. It has the option of applying custom CSS as well. 
Easy updates of modification:
Divi provides design instantly, meaning that every change you make in your design is updated in real time.
The choice of multiple layouts:
You can choose to start your design process with 20+ premade layouts present in the builder. 
Speed: 
Divi is fast. Very fast! There are no page refreshes and almost zero loading time. 
The advantage of Divi Library:
You can save layouts into the library for any other time. It is easy to export, import, share, and download layouts from the web.
Multiple Content elements:
There are content elements available in the Divi. You can use them in any which way you deem fit. 
Presence of global elements:
There is a synchronization of global elements. You update them in one place, and they'll be updated everywhere. This feature works great for the footers. 
Responsiveness:
You can test live previews and apply changes to the mobile breakpoints. 
Divi Builder
No coding experience needed:
The most loved feature of the Divi builder is the fact that it doesn't require you to know hard-level coding. Every newbie can start building a WordPress website using the Divi builder easily in just a few days.
Drag and Drop feature:
Divi builder allows you to design the pages using a simple drag-and-drop feature. Save your layouts in the Divi library and keep using them for any other age of your website. 
Flexibility and Compatibility:
The Divi Builder amazing option is it can be used in any WordPress theme and it works completely fine, and there won't be a need to have a Divi theme installed. It has no compatibility hang-ups. You can drop Divi builder to any theme and customize it. 
Advantages of Modular page builder:
Divi is a modular page builder. It means that you can add your content to the modules and build the pages. These modules can be customized too. 
Less worry about shortcodes:
Divi works really great for you in special themes that will rely too much on the shortcodes.
Different accessibility features:
The Divi builder provides access to elements such as excerpts, custom fields, etc. In the screen option, you can add a discussion and slug option.
You also get the Divi page settings like dot navigation and hide navigation before scroll.
Divi builder has functionality for selecting background colors and static CSS file generation. The Divi builder includes featured image settings and categories and tags too. 
BuddyBoss is a great theme when it comes to building a membership website. You can get new coupon codes for BuddyBoss from this article, which has all the working promo codes for BuddyBoss.
Drag-and-drop Visual Content Editor
Divi Builder may have started out as a back-end page builder tool, but it's now a genuine front-end visual full-site editor. Thanks to this upgrade, rather than working in the back end or WordPress dashboard part of your website, you're effectively live modifying the front end of your website using a WYSIWYG (what-you-see-is-what-you-get) interface.
The most significant disadvantage of using back-end builders is that you are unable to get a good idea of how your layout will seem until you switch to the front-end view.
Because of this, having the capability to work directly on the front end of your website, as you are able to do with the most recent version of Divi Builder, provides you with an exact picture of how the material you publish will be experienced by your website's users.
Because of this, you won't waste time repeatedly switching between the back-end and the front-end views of the website. It also eliminates the aggravation that comes from finding out that your layouts do not look the way you meant them to.
You can begin changing any component, including text, by simply clicking on it, as demonstrated in the screenshot that is now displayed above. While you are working on the front end of your site, you will be able to get a glimpse of the exact appearance that the design will have for your users.
Have You Made Use Of The Divi Builder Plugin?
I have not utilized the Divi Builder Plugin in a live website project, save from trying it on a few other WordPress Themes to see how it works.
I like how Divi operates, and for the projects I've finished, Divi met all of my needs. However, it is comforting to know that a plugin is an option if I ever need to move themes or have a new build that necessitates special functionality that I want to use in another theme.
Useful Selection Of Content Modules
More than 40 different content modules, each of which can be easily customized and inserted into your column and row layouts, are included in the Divi Builder. That's a very large number, but do any of those actually serve any purpose?
Call-to-action buttons, countdown timers, email opt-in forms, maps, pricing tables, testimonials, video sliders, and a whole lot more are just some of the highlights of the content module library. The library also includes a lot of other features.
When you activate Divi Builder on your website and gain access to the modules, you will immediately be able to replace the functionality of a large number of other plugins, both free and paid, in a single action.
This should help lighten the strain on your website and might even end up saving you money in the process. The majority of the modules come with a variety of different configuration options, so you are not forced to choose the default setting.
Nearly all of them come with an astonishing number of configuration options, allowing you to tailor them to the specifications of your website and goals.
If you are looking for a toolbox that can be used to construct virtually any kind of website, the content modules that come with Divi Builder come about as close as you can go to such a thing.
Configuring Divi
Important configuration pages, such as the theme settings, theme builder, and theme customizer, can be accessed via links in the Divi admin menu.
Take notice that the Divi Builder option is not available through this menu. To gain access to the Divi Builder, you will need to either utilize the "Edit with Divi Builder" button that is located in the WordPress editor or the "Enable Visual Builder" link that is located in the WordPress Toolbar at the very top of your live website.
The primary settings page for Divi is broken up into eight distinct parts, which are titled General, Navigation, Builder, Layout, Ads, SEO, Integration, and updates respectively.
You have the ability to activate and deactivate a wide variety of design components, such as the Divi gallery and the blog style mode, in the general settings section.
You can also set the URLs of your social media profiles here, and you can customize the number of posts that are shown.
In the following sections, you will have the opportunity to adjust the navigation menus of your website and choose which article types the Divi Builder will be active on.
On the page that contains the theme's options, you will also find text boxes that allow you to insert code into your website for scripts such as Google Analytics, as well as post and page layouts, an advertisement banner measuring 468 by 60 pixels, and SEO settings pertaining to various sections of your website.
Divi Theme vs Divi Builder: Pricing Plan
Divi Theme Price
Divi Theme basically a premium version. There isn't a free version of Divi Theme.
The theme is available for two plans:
$89 for a year

Another is a one-time lifetime access plan of paying $249.
In both of these plans, you get access to Divi, Extra themes, and plugins like Bloom. The plans also provide theme updates, premium support, and other risk-free guarantees.
As specified earlier, you do not need a Divi builder for the Divi Theme as it is wrapped into the theme. 
What can you do with the Elegant themes membership?
Get Divi builder to build websites with both backend and frontend page builders.

You get Bloom and Monarch to keep up with the social media and marketing platforms. 

Choose to work with WooCommerce websites and build amazing products.

Great place to start creating your portfolios. 
Divi Builder price
You have to join the Elegant Themes club if you have to use the Divi builder plugin. The prices start from $89/year. In this plan, you get to have access to about 87 themes (including Divi).
Divi builder can be accessed once you have a membership of the Elegant Themes. 
Divi Theme vs Divi Builder: Pros & Cons
Pros
Divi Theme
You get a page builder with the theme. No extra installation is needed.

The changes you make aren't page-specific but are applied unanimously to the basic layout. 

You can make changes to the templates and have them reflected everywhere. Anywhere those templates are being used on your website, the changes will be displayed. 
Divi Builder
You can choose to work with any of the themes. You can simply install the plugin and get started.

The builder isn't highly verbose and can be easily understood if you've worked with WordPress before.

You need not have UI/UX experience to start designing with the builder plugin. 

The settings here enable split testing. You can test specific modules and compare their effects on the goals. This testing helps you pick the best version.

Use the Divi builder with themes like Astra and Elementor, and they make for a great combination. 
Cons
Divi Theme
As long as your choice of theme is Divi, it's fine. You pick your customized layouts and have no worry about writing codes. The shortcodes are changed. However, if you ever wish to switch your theme, you are in for a surprise.
The content has a good amount of shortcodes, and you have to sit and sift through it. 
Divi Builder
A lot of things are going on in the background, which can become overwhelming sometimes. While promoting the builder, so many tools can be a downside to selling to the users.

Divi isn't made for marketing. It is not Customer Relationship Management. 
Divi Theme vs Divi Builder: The General Emotion in the Audience
There are constantly updated to the theme, and it is a good sign. However, sometimes people do not find the theme as great as it is made to be for the simple reason that there are too many updates! 
As the general sentiment goes, a lot has shifted. The choice of WordPress themes has changed over a period of time.
There was a time when people liked Divi a lot, and they still do (Cue: It is one of the most used WordPress themes.). But there have been changes. Subtle changes, but have happened.
With the introduction of the Divi builder, there has been a shift in the developer community.
Developers are choosing now to use themes of their own choice and integrate the backend Divi builder and front-end visual builder with the theme. 
FAQs Related To Divi Theme vs Divi Builder
👉How good is Divi for SEO?
Divi is SEO-friendly. The theme has features making it better for SEO. There have been instances where the builder isn't exactly in sync with the best SEO. But you can find solutions for it, and they are available quite easily.
👉Is Divi available for free?
A lot of WordPress themes have their freemium version. This freemium version is for users to try the features, layout, and basic functionality. It is a good practice to attract the attention of potential customers. Divi is owned by the company-Elegant Themes. And the company doesn't have the option of a freemium version. However, Elegant Themes offer a plan. You can purchase the theme - test it, work with it, and see if it fits the bill for you. And if it does, great. If it doesn't, you can simply ask for a return. Elegant themes have 30 days, no questions asked, refund policy.
👉Is Divi worth the money?
Definitely! Divi is a good option for those who had not to have the knowledge of coding but want to be able to create things on their own. The theme has an easy user interface that needs little time to understand. Divi is definitely worth your time and money.
Quick Links:
Conclusion: Divi Theme vs Divi Builder 2022  
We hope we have made sure that you understood the real comparison of Divi Theme And Divi Builder. It is evident from the comparison of the very features and benefits provided by both of them.
We can come to the conclusion that the Divi plugin has a builder but not all the functionalities of the Divi theme. Like the customization of the header section can be done in the theme, but not in the builder.
You get more choices to customize with the theme than the builder.
We can summarise our thoughts about both in the following words:
Divi Theme:
Divi builder is in-built into the theme. The user has the option to customize modules and have page layout options.

Creating widget areas acts as an addition to the functionality.

Divi includes child themes, theme options, and the Divi library.

Divi theme allows complete control of the website.
Divi Builder:
Divi Builder has the Divi layouts and library.

It is perfect for when you are using a different theme but want Divi as the page builder.
Between the theme and builder, both are good and yield great results. But it comes down to what you want. If you are using a theme other than Divi, the Divi Builder can be a great choice as a page builder.
It is incredibly efficient and easy to work with.
But our opinion would be to choose the Divi theme as it has more functionality even if it is only slightly higher than the builder.
Hope you have liked our comparison of Divi Theme vs Divi Builder and would love to share it on social media as well.