GIF's are in trend and are widely used as a viral media source. The reason behind is that they are not as bulky as a video yet they are equally live. They are a prominent medium to pass on a message and is being shared widely. So, in this article, we will tell you how to convert youtube to GIF?
But before that let's look into a brief history of gifs.
As per Wikipedia,
The Graphics Interchange Format (better known by its acronym GIF) is a bitmap image format that was developed by US-based software writer Steve Wilhite while working at the internet service provider CompuServe in 1987 and has since come into widespread usage on the World Wide Web due to its wide support and portability.
How to convert YouTube to GIF?
Method 1: Using Online GIF converters.
If ever you will search for the terms like "YouTube video to GIF converter" or similar terms then you will get a plethora of results regarding the same. You can use anyone of those, but for the sake of illustration purposes, we will be listing out some of them. Also, we will tell you how to use them. So, without wasting any time further let's get started:
MakeaGIF.com
Step #1: First of all, you will have to visit www.makeagif.com/youtube-to-gif , or you can click on this link. Once done then you now need to proceed with the next steps.

Step #2: So, you now need to scroll down a bit and look for the section named as YouTube to GIF. But before that, you are required to have the URL of the video which you want to convert to GIF. So, keep that handy.
Once you are equipped with that, then all that you require doing is to copy the URL to the field which has the placeholder as "Enter YouTube URL."

Once done then you now need to click on "Load Video."
Once you have clicked on the load video button, you will have to wait for a while till your video is converted to GIF.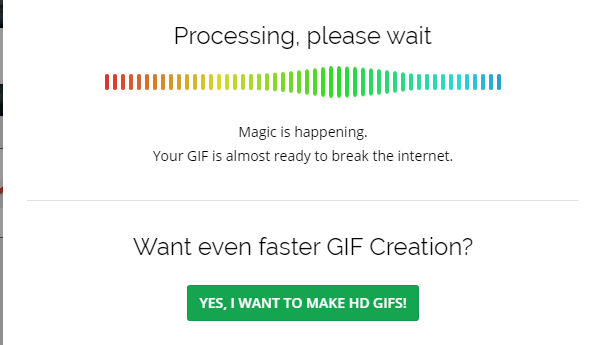 Step #3: Once the processing is completed then you will see a new page where you can customize the output. You can specify the length of your GIF; you can see the preview of your GIF. Also, you can enable or disable audio from the GIF. Also, take a note that if you wish to create a GIF of more than 10 seconds, then you will have to register or log in to the website.
Once you have all the parameters as per you, then you are now required to perform one final action, and that is to click on "CREATE A GIF."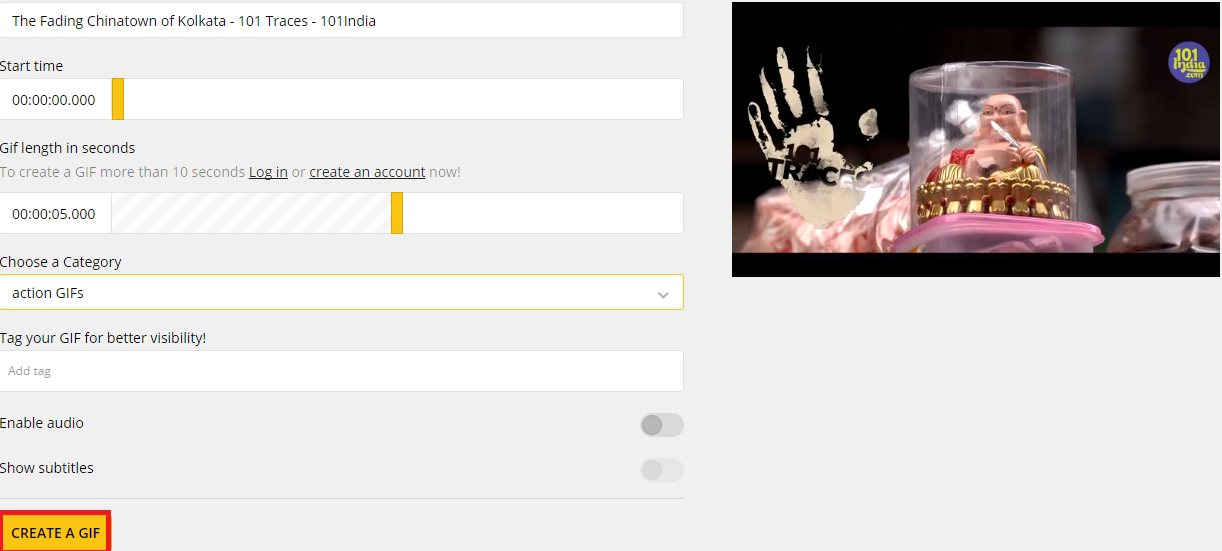 This will again take a few moments after which you will see your GIF ready. Now, you can download, share and add it to the album. Additionally, you can also add text to your GIF to make your message clearer.

This way you can quickly make a GIF from YouTube.
There are more such platforms on the internet from where you can make GIF from YouTube. Most of them give their basic services for free, but if you wish to use their featured services then, you need to upgrade your account from basic to premium.
Alternatively, there are few more methods to make a GIF out of your YouTube video. One of them is illustrated as follows.
Step #1: Firstly, you are required to open the YouTube video which you want to convert into a GIF.
Step #2: Now, navigate to the URL of the YouTube video. All that you require doing is to type "GIF" without quotes in front of where "YouTube" is written. Done that, you are now required to hit enter and look for the next steps to proceed further.

Step #3: The previous step will take you to a website named as gifyoutube.com. For a first few seconds, the website will process your video and once done; you will be provided with the tools to customize your GIF. You can crop, add text, effects, padding and much more to your GIF. You can even select the GIF starting and end points.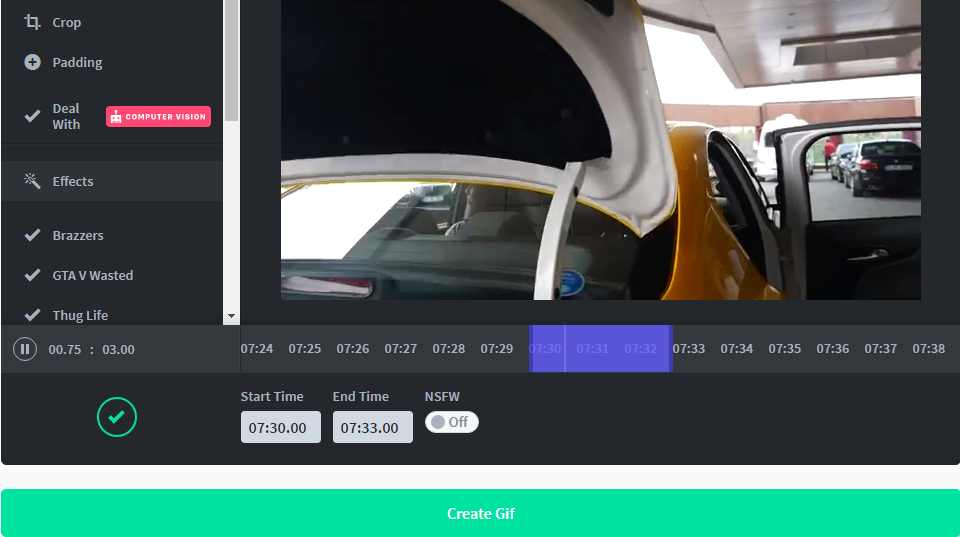 Once you are done with the customization then now you are required to hit the "CREATE GIF" button. This will take a few moments to create the GIF for you. Once the processing is done then in the subsequent window, you will have your GIF ready to be downloaded. You can even share the GIF to different social media platforms and enjoy.

There is one more method to convert your YouTube video to GIF directly from the YouTube portal itself. But unfortunately, it is not available for all YouTube videos. It seems like there is an update rolling out.
You can check whether if a YouTube video can be directly shared as GIF by clicking on the Share button down below the video. If you can see the GIF option, then you can share it as GIF as well as you can create a GIF at that very moment also.
Method 2: Using Photoshop.
Were you aware of this fact that we can even make GIF's using a video via Photoshop? Yes, it's possible. All that you require doing is first to download the particular video which you want to convert as a GIF and then import it as frames and make a GIF out of it. Though, we will not discuss this method in detail, just making you aware of the existence of this practice.
So, this was all about How to convert YouTube to GIF? We hope that after going through this article, you will be able to know how to make a GIF from a video?
So, if these methods worked for you then do make us aware of your feedback regarding the same.
Moreover, do not forget to give us a thumbs up on our different social media channels and also do not forget to leave a comment down below.
Thank you for passing by and giving it a read.
Stay tuned and keep visiting.