Siri is Apple's built-in "intelligent assistant" that enables the users to speak natural language voice commands in order to operate the mobile device and its apps.
Apart from voice, Siri lends a lot of extended functionality like scheduling of events, setting reminders, alarm setting, booking reservations at your favorite restaurants, and much more.
Siri has become a very important part of many people's lives and they use Siri to complete tasks throughout the day. For people who are not aware of what Siri is and how to use it, keep on probing about things to ask Siri.
Herein, take a look at the complete guide of how Siri can prove to be useful and what to ask Siri. But before moving ahead, take a look at how to activate it:
How to Activate Siri
Siri is your voice assistant on iOs. Follow these simple steps on activating Siri on your iPhone:
Go to Settings > General > Siri and make sure that Siri is turned on.

In order to ask Siri a question:
Hold down the Home Button on your iPhone. After you press down for a few seconds, the iPad will beep at you and the screen will change to the Siri interface.
Say, "Hey Siri." Then ask your question.
However, for models previous than iPhone 6s, you need to plug your device into the power, before using Siri. But, thanks to Apple that with all the new models, you don't need to do this, thus making Siri more convenient.
Things to ask Siri
You might be surprised at the versatility of this feature. It is useful to such an extent that once you start using it, it would become an addiction. Take a look at some of the things to say to Siri that can prove to be useful:
Ask Siri to call someone- Siri understands the relationship and remembers the contacts name. For example, you can tell Siri to call your husband's iPhone, and Siri will know who to call and which phone number to dial. Adding on, it is capable of even sending e-mails, iMessages, and SMS.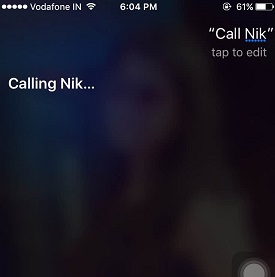 Instance- Make sure you say the name exactly as it appears in your contacts. For e.g. Nik is my brother. Tap the Yes button when Siri asks you to confirm. Now simply tell Siri, Call Brother. And it will place a call to Nik. It is one of the best things to ask Siri, as it is really useful and convenient.
Use Siri as a Calculator- With Siri, you don't need to tap in numbers into a calculator app. Just tell Siri "20 plus 80.5 plus 980.15. And it will do the calculations. In case you made a mistake, simply tap to edit the number.


Use Siri for Directions- Siri works together with the built-in Maps app to help you find your way home and figure out which route you should take to avoid traffic. The best part is Siri can even work in co-ordination with Google Maps.
Instance- Ask Siri," Where is the nearest hair salon?" and it will filter out the relevant results.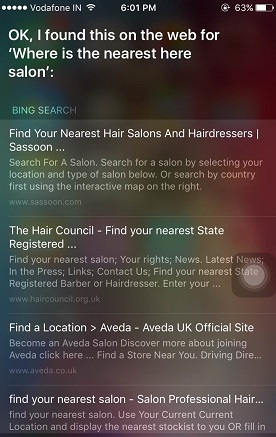 Tap on the result you're interested in launching Maps. You can tap on the car icon to get an overview of driving directions and to start voice navigation tap Start in the upper right-hand corner.
Search Web Browsers- Apple has enabled Siri with various search engines like Google, Yahoo, etc. Without typing, just ask Siri to find anything you would normally type into a web search box and it will get back with the results.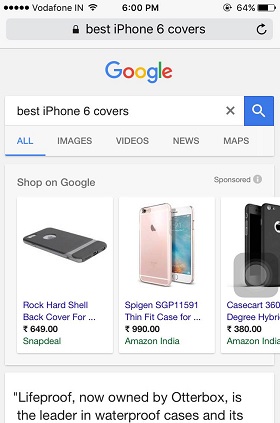 Instance- Say something like "Search Google for best iPhone 6 covers." Siri will automatically launch Safari and search for what you requested.
Set Reminders- Siri helps you to create and update your to-do list in the Reminders app on your iPhone or iPad. Basically, the hassle of typing in the reminders is waved off.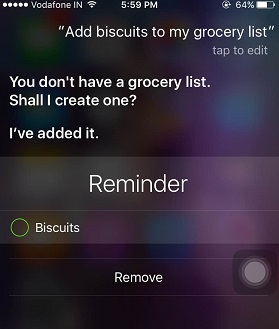 Instance- Just say to Siri, "Add Biscuits to my grocery list." And Siri will remind you of the same.
Funny Aspect of Siri
Siri is a combination of many things. Sometimes it is interesting, sometimes useful, sometimes funny and many times sarcastic. Ask Siri whatever you want, and it will give you the most convincing reply. Ask Siri some hilarious questions and you will see the funniest answers.
Take a look at some of the funny stuff to ask Siri:
Do I look fat in this? – Now, this is one of the interesting questions to ask, and you will be amazed at the response.


What are you wearing? – One of the fun things to ask Siri. The response is bound to put a smile on your face.


Do you believe in God? – Now, this is one of the weird things to ask Siri. But, the response will surely tickle you.


How old are you? – And Siri will reply to one of the weirdest answers.


What is zero divided by zero? – In lieu of, how to make Siri mad, just ask this question. And the response is hilarious.


How do I look? – Just ask this question and the response will be one of the cutest.


Will you marry me? – Just try asking this question. One of the cool things to ask Siri and check out the response.


I love you- Try complimenting Siri, and just like everyone she loves that.


Can I borrow some money? – And as a normal human being, she will give you the epic response.


Are you stupid? – Try insulting her and you will see one of the funny things Siri says.

Conclusion
Funny things apart, this is one of the most useful features by Apple you will come across.
Whether it is performing calculations, conversion of currency, keeping reminders, setting alarms, finding movie locations, showtimes, reviews, ratings, and trailers, making reservations, call, message or email, Siri is capable of much more.
In crux, Siri is capable of doing everything a personal assistant would have done it for you. Just press the Home button, decide the things to ask Siri and you are good to go!
Enjoy convenience at just a touch of a finger!