Safe Mode! Have you ever heard of techies or hardware people recommending to go into the safe mode while troubleshooting some system errors? I'm sure you have.
Safe mode is the ultimate way of solving many problems in our windows. When our system gets hanged and refrains from starting out, all we are asked to do is to go into the Safe mode?
But what's actually the safe mode?? How to start windows 7 in safe mode?? Or how to start computer in safe mode?? 
Above are some questions which are no less than Mind Stormers for non-techies or for those who have never get their hands on computers much!
These questions might have bothered you so far but the time has come that you should know how to boot into safe mode. Going into Safe mode comes out really handy sometimes and without getting to know about it, you can't  solve some sticky problems.
How to Start Windows 7 in Safe Mode:
There are two methods to enter into safe mode windows 7. The first method is applicable when you can start your computer and the second method applies when your computer has denied to rebooting.
But before going to learn how to enter safe mode, let's see what actually safe mode means and why we go into the safe mode to solve out the system error.
In Safe mode, the only core files and programs which are mandatory to run windows are loaded. In such situations, if there is any harmful file or virus in your system which is resisting your windows to boot normally, didn't get access through and you get access to your computer.
After getting access, you can do the needful and troubleshoot your computer and come back to the normal mode. Hence, learning out how to go into the safe is an important thing which everyone should learn.
#How to boot in safe Mode while booting:
As I suggested above, there are two ways you can go into the safe mode. The first method is via networking which lets you go into the safe mode while booting i.e when you can't get through your computer but want to troubleshoot system errors.
The other method is when you have access to your computer. This module of the guide will teach you going to the safe mode while booting the computer. This method is very handy because most of the times, we don't get access to out windows while having system errors.
Here's how to use this method, it's easier than you think.
Step 1. When you restart your computer or power it on, the computer starts booting and display the windows logo. Without getting any late, just starts pressing F8 key on your keyboard with the interval of 1 second.
This process should be quick enough but pressing the keys to quickly will show keyboard error on your computer. So be careful and restart the computer and repeat the process if windows start normally.
Step 2. If your attempt is successful, you will see the Advanced Boot Options like the below screen.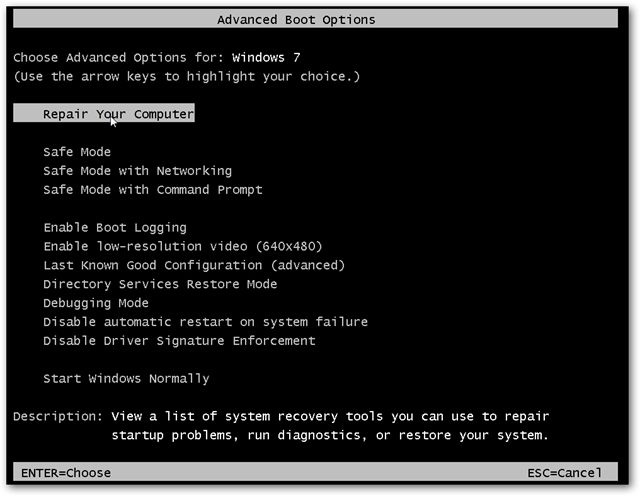 Step 3. In the above screen, you can view the Safe Mode, Safe Mode with Networking, and Safe Mode with Command  Prompt. All these three options are different from each other and have their own values. Let's check out what is the difference between all these options.
Safe Mode: Safe mode is the Regular Safe Mode. Which is most probably the prime choice for troubleshooting system errors, in most of the cases. It starts the windows with all the important and core files, drivers and software.
It's very general and won't let you access the internet or command prompt.
Safe Mode with Networking: This mode of windows lets you connect to the internet while in safe mode. This type of safe mode is handy for those who need the internet connection to solve the system problems.
Safe Mode with Command  Prompt: Unlike the other two modes, this safe mode option gives you access to the command prompt. If you know what you are doing and the command prompt is going to be used while troubleshooting errors, go for this option.
#How to Start Windows in Safe Mode From Inside the Windows:
The above method is the only option to boot a computer into safe mode when windows don't load. But if you can start your computer normally but you still have to go to safe mode to solve some system errors, you can directly do that from the System Configuration.
In fact, if you configure your system to go into the safe mode by doing system configurations, it will always boot into the safe mode until you make the settings off and make it start into the normal mode.
So here's how to start a computer into safe mode, when you have access to it.
Step 1: Click on the Start menu and go to the Run window. Or press Windows
+R key to open the run window.
Step 2: In the Run Window, type "msconfig" and click  ok similar to the below screenshot.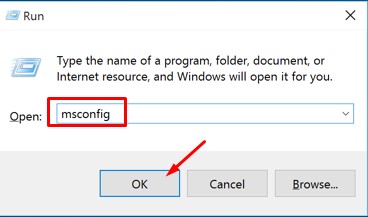 Step 3: As sooner you click on it, System Configuration window will get launched. Now Go to the Boot Tab. Refer to the below screenshot, in the case of any doubt.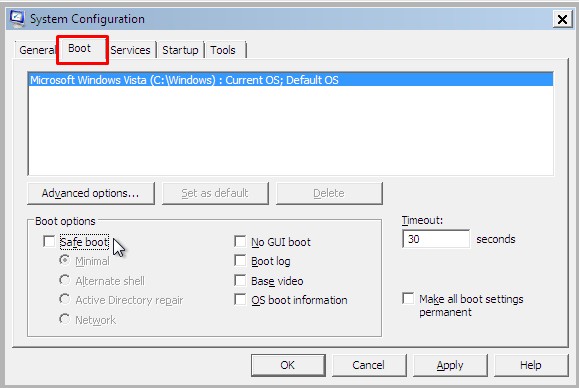 Step 4: In the Boot tab, you need to check the options Safe Boot under Boot Options. If you will check Safe boot, you will see many sub options getting appeared.
You need to select Minimal out of all the four options. Refer to the below screenshot to understand the options better.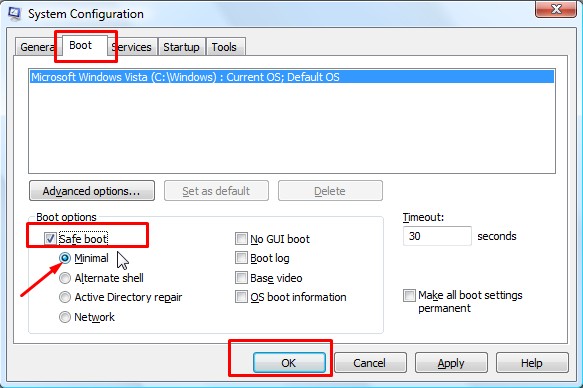 Step 5: Once you are done with the above-mentioned settings, click Ok. 
Now every time you start your computer, it will start into the safe mode. If you want to make it back to normal, come back to System Configuration window and undo all the Settings.
The same method is applicable in windows XP, windows 8 and vista.
I hope above two methods are enough to teach you how to start windows 7 in safe mode. For any doubts, queries and suggestions, you can leave your comment below, we will reach out to you as soon as possible.