Amazon businesses are relatively easy to set up, as sellers know. In order to succeed in the long term, the business must be able to grow and sustain itself.
To compete in today's market, you must have tools that give you the ability to make profitable business decisions.
Amazon sellers recommend Sellics as one of their most popular tools. This website claims to be "The top all-in-one software for successful Amazon selling." But how well does it perform? See what's in store for you!
What is Sellics?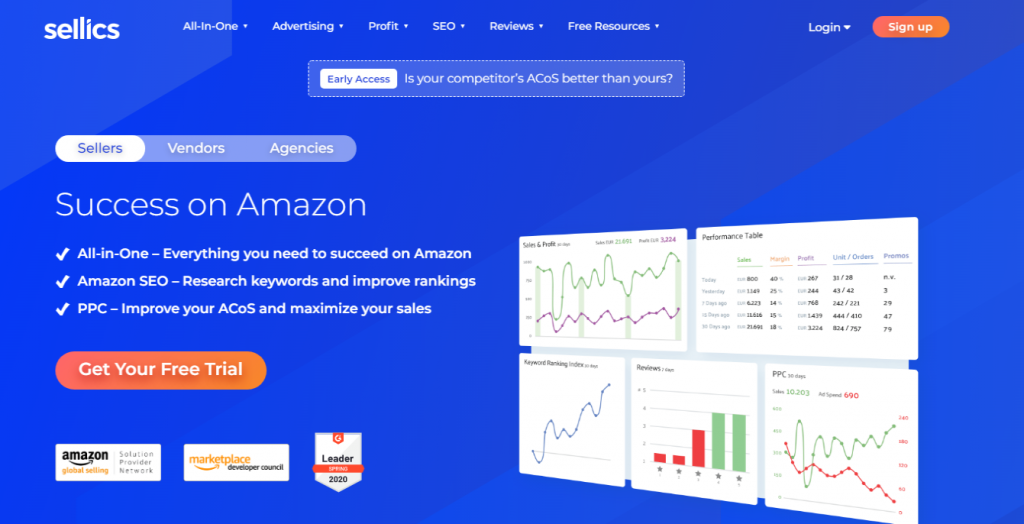 Amazon tools that specialize in data collection or managing reviews are not Sellics and claim to provide all capabilities. This suite includes all the essential tools for running an Amazon business.
Sellics will help you dominate the Amazon marketplace, regardless of whether you want to know your competitors or optimize your ranking.
Founded in Germany in 2014, Selics focuses on commercial analytics. Sellics was used back then primarily as a keyword ranking tracking tool. Through the years, the software solution acquired several features that are now a part of AMZ software.
KW-Commerce, Bosch, Chal-Tec, and L'Oreal are just a few of the big brands that use Sellics.
The fact that Sellics offers a variety of software platforms sets it apart.
Sellics offers different versions of its software based on your business volume because they want to cater to businesses of all sizes. Consequently, you will only be charged for the features you require.
The different editions of Sellics
So that you can select the best version for an Amazon business, let's compare the features of the different versions.
Seller edition
Integrated software for managing an Amazon store, the Seller Edition makes things easier for sellers.
Profit Dashboard – 
Real-time tracking of your REAL profit is achieved using automated profit calculations.
PPC Manager – 
Automate your campaigns to ensure maximum profitability and use automation to maximize PPC spend.
Amazon Ranking Optimizer – 
All the keyword information and tools needed to get your listings ranked higher.
Competitor Monitoring – 
Track the sales volume and keyword rankings of your competitors so you can outperform them.
Product Research – 
Listed here are the top 10,000 items currently selling on Amazon. The niche with the greatest profit potential can be quickly determined through this method.
Review Management – 
It sends you an instant notification when your listings are reviewed, allowing you to make a response.
Inventory Management – 
Make sure you always know what's in stock. It is the same as what Inventory Lab is best known for. 
Vendor edition
The vendor edition is meant for companies that are looking for specific tools to improve their Amazon business.
Customer Feedback – 
Keep track of both good and bad customer feedback so that you can respond quickly.
Content & SEO – 
This leads to an increase in organic sales because more people discover you on the Amazon search results.
Amazon Marketing Services – 
AMS campaigns are optimized through keywords and the bidding process is automated so that you can leave them to work.
Buy Box Monitoring – 
You can gain a larger share of the buy box by monitoring the 3rd party sellers that carry your products.
Retail Analytics – 
Your vendor sales performance will be better understood and appreciated.
Agency edition
A simple way for agencies to manage client accounts is included in the Agency edition.
Amazon SEO – 
Improves Amazon rankings by optimizing listings and monitoring content.
Amazon Advertising – 
You can maximize your clients' advertising spend using automated bidding and reports created by the software.
Granular access controls – 
Data is securely protected with tiered user access.
Client management – 
You can handle multiple clients – sellers, vendors, or both – much easier.
Aggregated data – 
All relevant data, including customer reviews, Buy Box information, and tracked 3P sellers, is present in one place.
Customer support – 
You'll always be able to reach an industry expert who works with both 1P vendors and 3P sellers whenever you need them.
Agency Directory – 
Make your brand visible to clients who are interested in finding agencies to manage their Amazon business.
Here's how to use Sellics to increase your Amazon sales
You're sure to be tempted to get started with its impressive list of features. The following instructions will help you streamline your Amazon operations using Sellics.
Keyword research
You can conduct keyword research by clicking on the rankings tab. In addition to showing you relevant keywords, search volumes, and rankings, the tool will provide you with suggestions on how to optimize your listings. On this page, you will also see listings that hit top rank.
Click on the Details button if you would like to go into greater detail about how well your keywords are performing. You'll also find a chart showing the rankings of keywords. By hovering your mouse over the keyword, you can see its recent performance displayed on the graph. Only the historical data is missing. This feature does not provide you with past performance statistics for your tracked keywords.
Product research
Using the spy tab, you can research your competitors' products (i.e. find out how well they sell the same products). The monitored products field contains the ASIN or name of the product you want to know more about. It'll give you a quick picture of how well that product is selling. It will give you a rough idea of inventory levels, revenue generated so far by the product, and the number of units sold on average per day.
As mentioned previously, this tab doesn't feature products with over one thousand units, which occasionally may seem to be pointless. Adding your own products and keywords to this tab can help you see how they stack up against your biggest competitors.
Amazon reviews management
In the toolbar, you can find a tab for reviews. Each product in your catalog will have its own review. It is fairly straightforward to manage Amazon reviews. The reviews can be filtered by star rating, whether the review requires further attention (marked as work in progress), or whether it has already been resolved (marked as completed).
Rather than notify you when bad reviews come in, the Amazon reviews management feature is not so practical when it comes to collecting and organizing your reviews. In case you want to receive a notification as soon as you make a change, Feedback Genius might be a better choice.
Sellics pricing
Seller Edition is ideal for those who make anywhere from $1000 to $60,000 annually on Amazon.
The Seller Edition is available for $47 per month on an annual basis, and you can track unlimited products as well as benefit from the best features that Sellics offers.
The Vendor Edition is tailored to meet the needs of businesses that earn more than $60,000.
You can choose the Retail Analytics module and the Content and SEO module for $179 per month in the Vendor Edition. When you purchase two or more modules in this edition, you will get a 50% discount.
Sellingics offers an Agency Edition to agencies with multiple clients. The agency receives dedicated support so that it can better serve its clients. We recommend contacting Sellics for a quote on this edition because the pricing varies.
Sellics Review: Pros and cons
We'll examine the pros and cons of using Sellics in order to help you determine whether this is the tool you're looking for.
Pros
Shows you the conversion rates. Many tools do not have this feature. You can get more insight into your listing sessions by using Sellics' conversion rate widget.
Great customer support. The Sellics support team is available by email or live chat whenever you encounter a glitch. Their response time is fast.
Variable pricing scheme. A reliable AMZ tool suite won't cost a fortune for low-volume and startup sellers due to your subscription fee being based on your annual sales volume.
Supports international Amazon marketplaces. If you do business in other markets besides the United States, Sellics can help you grow your stores on the Canadian, U.K., France, German, Spanish, Italian, and Mexican Amazon marketplaces.
Comprehensive knowledge base. Do you want to know how you can make the most out of Sellics? You can find tips on using Sellics' features in its knowledge base.
Cons
You need a seller central account to sign up. You still need a Seller Central account even if you only plan on checking out Sellics. The physical address of a Seller Central account must match the Sellics account.
Historical data can only go back to two months. The Sellics profit dashboard can only be accessed for two months due to Amazon's API limitations.
Can't download reports. The only feature that Sellics does not have is the ability to download or export reports from your account.
Can't show ROI. Furthermore, Sellics doesn't display your return on investment. A third-party tool must be used to compute your ROI.
Quick Links
How To Get Free Ebooks For Kindle
How To Delete Linkedin Account
Verdict: Sellics Review 2022
If you want to find a tool that provides everything you need, then Sellics offers a lot to its users.
It provides not only basic metrics but also the option to dig deeper. It is simple to use, even though it has a lot of features.
Subscriptions might be confusing for some, but they're worth every penny. What is the reason? The reason is that you're only charged for the features you need.
Sellers already serious about growing their Amazon businesses should consider Sellics since you will have to have an Amazon seller account to use these features.
To find out which Sellics software edition you should buy at this point, see the Sellics blog's handy guide.
For a free 14-day trial (without credit card required), you can take this versatile tool for a spin.
Read Full Review Here.