Facebook being the largest social media on the planet is pretty conscious about user security and comfort. And that's the reason it's working constantly towards security a better "digital social" life for us. Nope, I'm not promoting Facebook (as if they need it at all), I'm just listing out a fact and experience.
So that's the reason I thought of scribbling this piece down here on How to Report a Post to Facebook Groups. This is a great feature and helps you keep your groups clean, which also makes the job easier for the admins. Facebook groups work really good. You can create your own Facebook Groups for discussing Music, Movies, Gadgets or anything. Here is how to create a Facebook Group.
I won't go into a lot of sweet talks, instead just let me get down straight to the point, if you've ever wondered How to Report Things on Facebook, then that's what this piece is answering over here today.
How to Report a Post to Facebook Groups:-
Before getting into the basics let me just clear the primary point first. If you've wondered How do I report something I see in a group, here is the answer to it.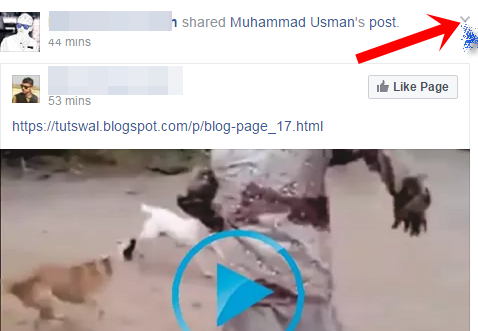 Whenever you see a content that's inappropriate and shouldn't be in a group, click on the small downward arrow button on the right side of the post.
A small box with some options would come up. Select "Report to Admin" from them.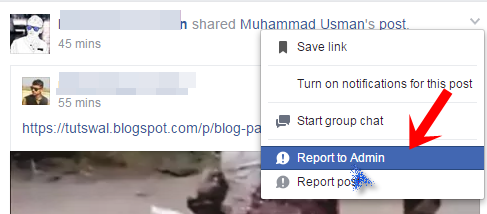 And then a final confirmation would come up asking if you're sure about reporting the post to the admin, just click on yes.

Done! You just reported the post to an admin in the group and necessary action would be taken against the post by them.
When To Report Post to Admin:-
Yeah there are certain rules and regulations for this too! Just because you don't like a guy doesn't mean you can go over and start reporting his stuff. That's just lame and isn't allowed in the first place.
So when exactly should you be reporting thingS?
If the content is "off-topic". Yeah if the group is about "Dogs" and if there's a post popping up about maybe "buy digital cellphones", well that's definitely something that shouldn't be there, right?
Posts with Promotional links if it's not allowed in the group. Enough times you come across posts from people containing links and videos of self-promotion. The only goal of those posts is to promote the specific product or person, well those need to be reported too.
Offensive/ Abusive Content:- There might be times when the content posted is targeting a specific person or group and insulting them. That's not what Facebook groups are for, right? Report them right away!
What you "can't" and "shouldn't" report!
Personal Feuds:- Yeah everyone has people they don't like! I do too! But that doesn't mean I can go in every group that guy is a member is and start reporting his posts. That would just get you banned, because admins? They need a reason to take action!
Posts with "links", but not necessarily promotional:- There are times when I myself share links in groups, but that doesn't mean I'm always promoting them. Mostly they're for helping someone with that specific purpose, or at times the piece is really just epic and is informational and unique. That's when you probably might get a pass.
So that was about reporting Facebook Group posts, right? How about reporting a whole group? I mean, there are some "Groups" in whole which are inappropriate and shouldn't be on Facebook, right?
And yeah Facebook allows you to report the groups too! You can report the groups to Facebook and the facebook team would look into it.
How to Report Facebook Groups to Facebook:-
Keep in mind that this is not about reporting "posts to groups' admins", instead this section is about "reporting offensive groups to Facebook team". So by doing this you're trying to get a whole group removed or moderated.
Whenever you come across such a group, just go to the Group Profile. Meaning inside of the group, and click on the three dots below the cover photo.

And then, you should see the "Report Group" option come up. Click on it.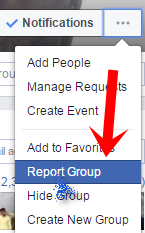 Once you click on that, a popup would come up asking for the reason of your reporting the group. Just select the appropriate reason and click on continue.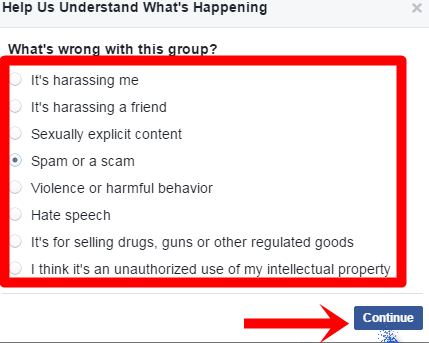 Done!
Over to You:-
So that was it folks, on How to Report a Post to Facebook Groups, I made sure that I also cover the reporting process of whole groups and not just posts. There are alot of people on Facebook and everyone is not up to the mark. You can report those annoying people to Facebook. Here is how to report someone on Facebook.
So I'm guessing this piece should've answered your queries. If not, just leave a comment down there in the comment boxes and I'm here to answer them all.
So bottom line? Reporting is not something you do for fun or just for revenge. It was intended to keep Facebook clean and spammy posts out of the way, in a way to make the life of group admins easier. So make sure you're using it exactly for that purpose and not for anything else.
If you've got better ideas on How to Report a Post to Facebook Groups, I'd love to hear them out. In fact, that's why the comment boxes are there for. Make use of them.