In this guide, we'll talk about Klaviyo Pricing 2022, what Klaviyo is, its main features, how it works, and why so many people use it to grow their businesses.
An introduction to Klaviyo email marketing is the best place for both new and experienced marketers to start learning about this popular platform.
Read on to find out more about Klaviyo and why it's a great email marketing tool.
Klaviyo Pricing 2022
What Is Klaviyo?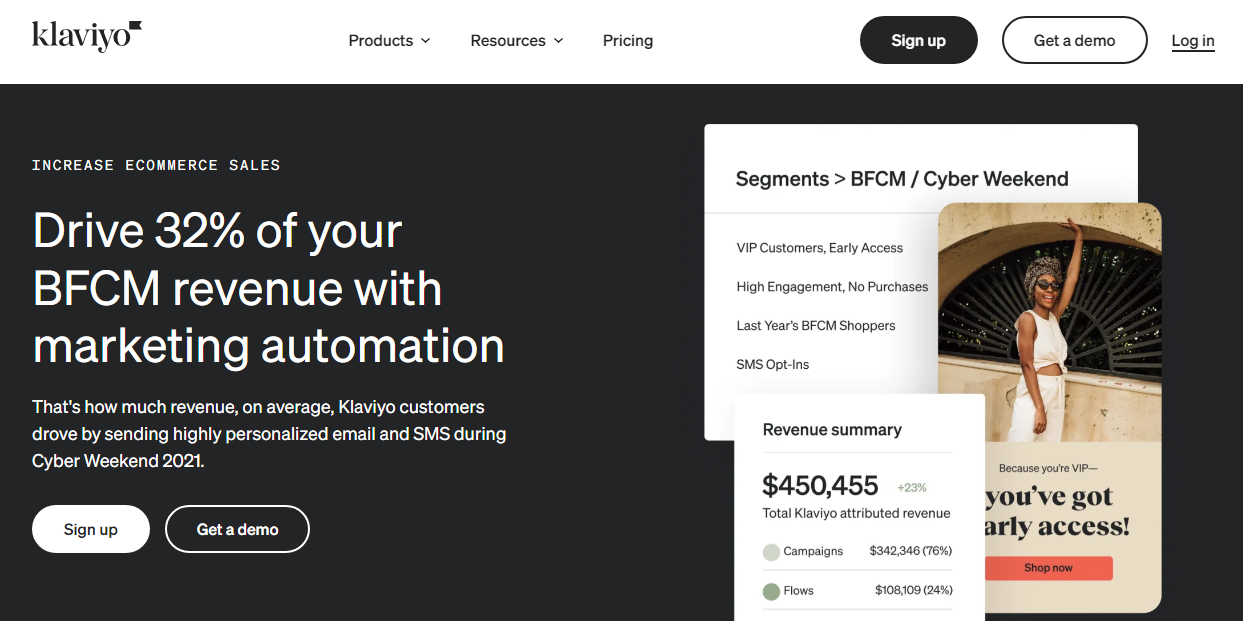 Klaviyo is one of the most popular email marketing platforms on the market right now, and it has a number of advanced features that set it apart from other options.
For example, Klaviyo is made for eCommerce businesses and works with a wide range of marketing platforms. This makes it easy to automate your marketing strategies.
Klaviyo also has powerful segmentation tools that let you send targeted messages to your subscribers based on what they do and what they like.
You can even use Klaviyo's machine learning features to automatically divide your audience into groups and send them the most relevant content.
Klaviyo also gives you detailed analytics that show you how your campaigns are doing and what you can do to make them better.
This information is helpful for figuring out what's going well and making the changes you need to make to get the best results.
Klaviyo Pricing For Email & SMS

Klaviyo has a variety of affordable plans for email and SMS marketing, making it one of the most cost-effective options on the market. The company's Basic plan starts at just $20 per month, while the Professional plan costs $149 per month.
Klaviyo also has a plan for larger businesses called "Enterprise," but the price for this plan is based on what the customer needs.
Klaviyo's email plans come with features like templates, A/B testing, and reporting tools that make it easy to make and send high-quality campaigns.
The company's SMS plans are also full of features and let customers send SMS campaigns to an unlimited number of contacts.
Klaviyo's prices depend on how many contacts you have in your database. This makes it a flexible solution for businesses of all sizes.
The company gives new customers Klaviyo free trial so that they can try out the platform before signing up for a paid plan.
Klaviyo is a great choice if you want an email and SMS marketing platform that is cheap and easy to use. It has a variety of plans that make it good for businesses of all sizes.
It also has a great set of features and works well with the rest of your marketing stack, making it easy to start running effective campaigns quickly.
Understanding The Nature of Klaviyo Pricing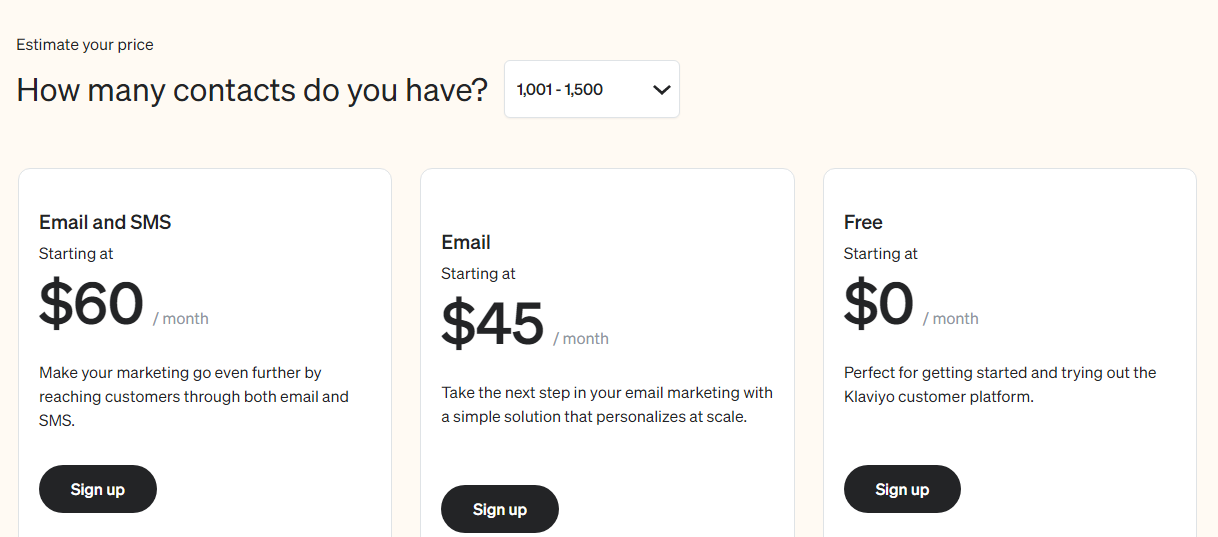 Klaviyo is a tool that lets you make and send your customers personalised email and SMS campaigns.
It's made to help you grow your business by making it easy to divide your customers into groups, send them messages that are relevant to them, and keep track of how they interact with your campaigns.
Klaviyo has three different pricing plans based on how many customers you have. Each plan has a different set of features. The Basic plan is free and lets you send up to 12,500 emails per month to up to 50 contacts.
You can still use the Basic plan for free if you have more than 50 contacts, but the number of emails you can send and other features will be limited.
In addition to unlimited emails, a dedicated IP address, and priority support, the Essentials plan costs $20 per month for up to 500 contacts.
There are a number of advanced features in the Professional plan, such as email automation and A/B testing, which are not available in the Essentials plan.
Klaviyo also lets customers pay as they go if they need more than 10,000 contacts. It costs $0.01 per contact per month for this option.
Which pricing plan is right for you will depend on how big your list is, how often you plan to send emails, and which features are most important to you.
The Benefits of Klaviyo Pricing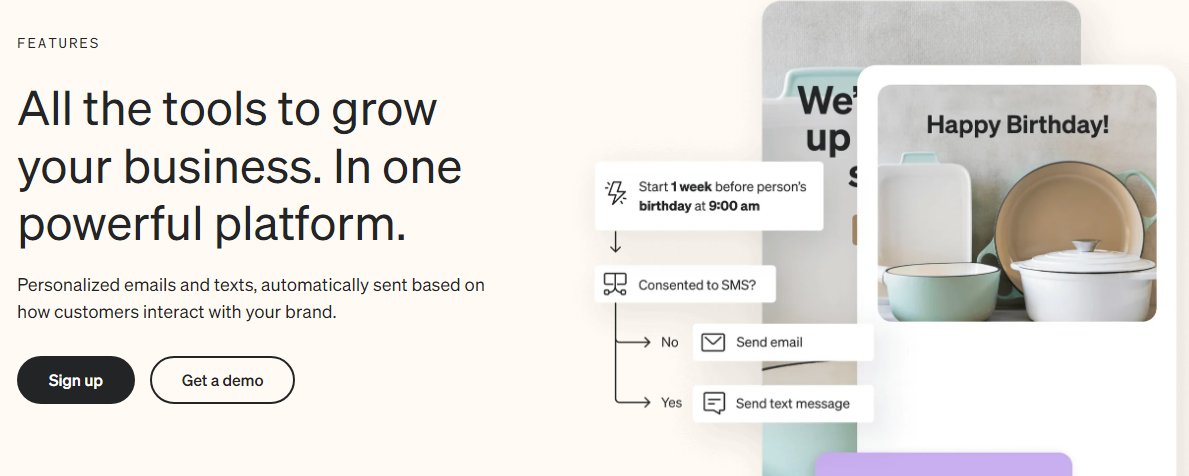 Klaviyo is a great platform for automating marketing, and its pricing options are great.
Whether you have a small startup or a big business, you can choose the right plan for your needs and get all the tools.
You need to grow your email list, send dynamic emails, create personalised messages, and track detailed reports on how your emails perform and how people behave with them.
There are four different pricing plans, and each one has its own features and benefits.
The most affordable option is the Lite plan, which costs $20 per month for up to 1,000 subscribers. In this plan, you get automation workflows, reporting, and integrations so you can get started with email marketing right away.
The Plus plan is for businesses with big email lists and gives them more features, like advanced segmentation options and the ability to add as many integrations as they want.
Up to 5,000 people can sign up for this plan each month for $75.
Small to medium-sized businesses that want to take their marketing automation to the next level should go with the Pro plan.
This plan has features like advanced A/B testing, real-time reporting, and deliverability insights. For up to 10,000 subscribers, the Pro plan starts at $149 per month.
Lastly, the Enterprise plan is made for businesses that send a lot of emails. Pricing is based on the size of your list and other factors.
This plan has all of the same features as the Pro plan, plus more technical support and account management.
Quick Links:
Conclusion
Klaviyo is a powerful email marketing platform with a wide variety of features and pricing plans to meet the needs of any business.
In this guide, we explain the different plans and pricing structures, as well as what's included in each plan. You can use Klaviyo to boost sales and grow your email list by choosing the right plan for your business.