Since Amazon's Kindle was first released in 2007, e-Readers have emerged as the must-have gadget for book lovers. Small, compact, and relatively inexpensive, the Kindle, as well as other e-Reader models, allow casual readers and bookworms alike to access thousands of books from one small, handheld device.
The first generation of Kindle used E Ink technology, to best match the look and readability of printed books. However, newer models boast lightning-fast CPUs, high-resolution displays, and multimedia playback.
The Kindle Fire and Fire HD share many of the same specifications, but the Fire HD has a few important additional features that may make it a better purchase for some users.

The Technical Lowdown
The specifications of both models are mostly the same. They are both powered by dual-core OMAP CPUs (although the Fire HD is slightly faster) with 1GB RAM, the screen size is 7″, both devices weigh approximately 400 grams and they both have Wi-Fi capabilities.
However, the Fire HD has a higher resolution of 1280×800 and can support 720p HD playback. The HD display is much more vivid and crisp when compared to the Fire's 1024×600 resolution.
The Fire HD also has Dolby Audio dual-driver stereo speakers, for clearer sound, and 16GB or 32GB storage compared to the Fire's 8GB capacity.
Browsing The Web And E-Reading
Reading books and magazines is easier and more clear than ever on the color 7″ screens. Both Fire and Fire HD can access Amazon's Kindle store to purchase and download new titles.
The devices also use cloud-accelerated Amazon silk technology, so the Internet browsing interface is much more intuitive and user-friendly.
However, the Fire HD has a 10-point multi-touch screen, compared to Fire's 2-point screen, so gestures and navigation on the touch screen can be easier with the Fire HD. The Fire HD also has dual-band and dual-antenna Wi-Fi, so browsing is much faster, too.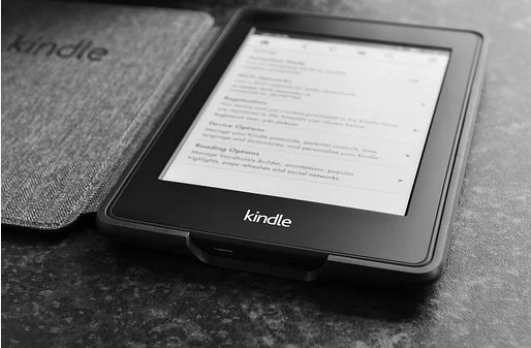 Games And Multimedia Playback
Both devices support the playback of TV shows, movies, songs, and games, and new titles and content can be downloaded through Amazon's app store.
However, with its 720p HD display and Dolby Audio sound, the Fire HD offers a better experience for watching movies and for listening to music.
Also, its 10-point multi-touch screen makes it much better for playing popular touchscreen games like Angry Birds and Cut The Rope.
Quick Links
Conclusion | Kindle Fire vs Kindle Fire HD 2022
Although they were originally sold primarily through Amazon, Kindles can now be purchased from most high-street stores and supermarkets. For those looking to pick up one of the latest Kindle e-Readers from Tesco, the Kindle Fire HD is the overall better choice.
Available from £159, it costs only £30 more than the Kindle Fire but comes with stunning HD resolution, multi-touch screen input, and stereo sound.
The Kindle Fire HD is more like a tablet computer than a simple E-reader, and it rivals even the most advanced (and much more expensive) tablets on the market.