Trying to figure out which Kajabi price plan is best for your business?
When you have several plans to choose from, it can be hard to know which one is best for you.
In the guide below, we break down the main differences between the three Kajabi Plans so you can make an informed choice and set yourself up for success.
It costs $149 per month for the Basic plan, $199 per month for the Growth plan, and $399 per month for the Pro plan. Paying for the whole year at once saves you 20%.
You can sign up for a 14-day free trial of the Kajabi Growth plan through the links on this page.
You can change your mind and get your money back if you cancel your subscription within 30 days of making your first payment.
After the free trial, you can upgrade to the Pro plan or downgrade to the Basic plan. Below, we'll look at what each Kajabi plan has to offer.
Kajabi Plans 2022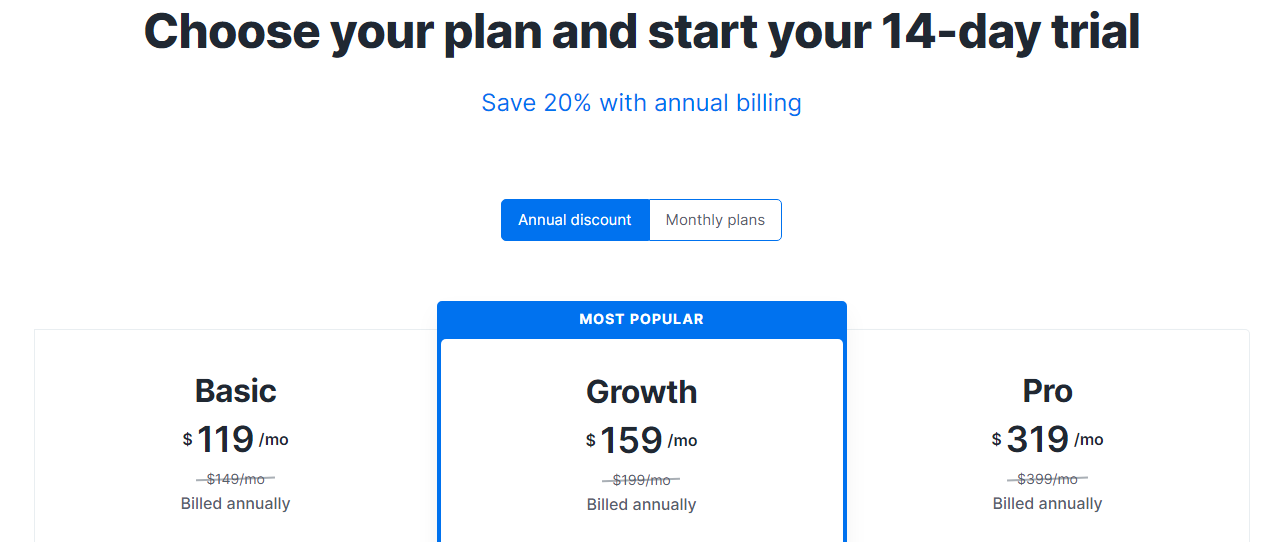 Kajabi Basic Plan at $149 per month ($119 per month when billed annually)
The Basic Kajabi plan gives you access to 3 Products and 3 Pipelines as a place to start.
A Kajabi Product is the digital asset you want to sell. This could be online courses, membership areas, resource centres, or communities.
Pipelines are automated and streamlined sequences of optimised content marketing and sales funnels that you don't have to build from scratch.
At the basic plan level, you can only have 1 website and 1 admin user. However, this should be enough for most new entrepreneurs and business owners.
With Pipeline, you can set up a few links to make a sales funnel for selling and marketing online courses or membership site subscriptions. This funnel will have a high conversion rate.
These are made with their responsive website builder, which comes with great Kajabi templates. If you want, you can make one of these into a membership site. At this level, you can only have up to 10,000 Contacts.
Active Members, which is set at 1,000, is the more important feature constraint to keep an eye on. Active members are people who have logged into their account with you in the last 30 days.
This is the feature where you are most likely to reach your limit. In reality, though, you should be able to afford the $50 step up to the Kajabi Growth plan if your online business has more than 1,000 active members.
One more thing to note is that there are no transaction fees. Many of their competitors charge about 5% for their basic plans, so this is a nice feature of their Basic Plan.
At this level, you also get unlimited landing sales pages and marketing emails, which is another important perk if you want to grow your audience.
Kajabi Sign Up Process

In the first step of using the Kajabi platform, users have to enter their email addresses. After that, they are brought to this page, which you can see in the screenshot.
Here, you'll need to enter your credit card information, which Kajabi will use to charge you once your free trial is over. Through the link below, you can get a 14-day trial right now.
If you sign up for the Growth or Pro plan, you can downgrade to the Basic Plan before becoming a full member.
Visa, Mastercard, American Express, and Discover are all accepted, as well as any other major credit card.
Growth Plan at $199 per month ($159 per month when billed annually)
Every feature has more volume in the Growth plan tier.
There are now more Products and Pipelines, and 10 admin users can work on the site. Most importantly, you can now have up to 10,000 active users and up to 25,000 contacts.
With advanced automations, you can narrow your automated targeting even more.
In particular, a "Only If" filter is added to your automation conditions so you can make your email marketing campaigns or posts about digital products even more targeted.
At this level, the Growth Plan also adds an affiliate programme, so you can use your audience to help grow your business.
Just give them a share link that they can use to bring people to your site, and pay them a small amount for every person they bring to your site who ends up buying something.
As with most software, as you move up the tiers, you get more customer support. The Growth Plan gives you chat support around the clock.
With this plan, growing businesses that want to make their brand more independent can also remove the "Powered by Kajabi" page.
Pro Plan at $399 per month ($319 per month when billed annually)
All of your limits for Products, Pipelines, emails, contacts, and users are raised when you upgrade to the Pro plan.
With the Pro Plan, you can use Kajabi's software on up to three sites.
The Plan is for digital agencies that handle the online presences of a few companies and for successful business owners who want to add more sites to their portfolio.
At the Pro Plan level, the other feature that stands out is the code editor. So, businesses can fully change parts of the Kajabi software, like the templates for email marketing campaigns, to fit their online business.
Kajabi Access (Add On of $99 per month)
The Kajabi Access add-on gives users access to a number of extra features.
First, you get six Success Sessions with a Kajabi Customer Success Manager that are one-on-one. As experts in Kajabi, they can help you use the platform to achieve your business goals.
Each of these sessions lasts 45 minutes. With the Kajabi Access plan, you also get twice as many features.
So instead of the Basic Plan's 3 Products and 3 Pipelines, the Basic plus Access plan gives you access to 6 Products and 6 Pipelines.
You can add Kajabi Access to any Kajabi plan for $99 per month. It can be used with both monthly and yearly plans.
For instance, if you add Kajabi Access to your Basic plan, you'll pay $248 per month ($149 + $99). If you are a new customer, you can also add access at the Free trial stage to test it out.
The Kajabi Access plan also lets you use the custom code editor to change the way your website looks and gives you early access to new Kajabi features through Beta launches.
Kajabi Pricing Summary
What is the cost of Kajabi? Below is a quick recap of pricing:
There is a monthly fee of $149 for the Kajabi Basic plan.

Kajabi Growth costs $199 per month.

A monthly fee of $399 is charged for the Kajabi Pro plan.
Is There a Kajabi Free Plan?

You might also want to know if Kajabi has a free plan.
During the trial period, you can try out any of the Kajabi plans for free for 14 days. This is a great way to check out the platform and see what it can do for your business and if it's a good fit.
Quick Links:
Conclusion – Selecting the best Suitable Kajabi Plans 2022
Now that you know how much Kajabi costs and how its prices compare to those of its competitors, we can help you choose the best pricing plan for you.
As we've already talked about, Kajabi has three price tiers, and if you want to start a new business, the Basic Plan is the best choice.
It has everything you need to get your online course business off the ground, and the limits on things like products, pipelines, contacts, and active members should be enough for you at first.
As your business grows, you can switch to Kajabi's Growth Plan, which lets you have a lot more products, pipelines, contacts, active members, and other things in your account.
Once you're on the Growth Plan, you can stay on it for a long time because it has all of Kajabi's features and has high enough limits for all of your account's parts.
If you want to have separate membership areas and websites for multiple brands, Kajabi's Pro Plan is the right choice.
Finally, if you want more assistance in setting up your Kajabi platform or want to increase your current plan limits, you may want to add the Access Add-on to your plan.
So, picking the right Kajabi Pricing Plan for your business should be pretty easy, and it should mostly depend on where you are in your business and what you need.