Have you ever wondered how a webinar can be conducted without breaking your bank? Or do you think it's impossible to host a webinar for free?
Then, you should read this article completely. In this post, I am going to share how to use Google Hangouts for personal chats and public speaking (like a webinar) as well.
I know you are already familiar with video calling. Skype has been here for a while now. But, you don't need to have a separate application for video calling really. All you need is a Google plus account.
So, let's get into the core of this how to use Google+ hangout article.
How to Use Google+ Hangout?
Stop racking your brain now. You are going to know how to do Google hangout soon. Set your misconceptions about Google + hangout aside and start reading this post (usage is easier than you think).
What is Google Hangouts?
Google Hangouts is one of the best ways to interact with others. You get many features that no other video calling app has. The biggest advantage is you don't have to load your computer with a heavy application.
Just open your browser, type the URL and there you go.
Two types of hangouts are there- private hangouts and public hangouts. In both these varieties, Google allows you to include a maximum ten members. But the first one can only be seen by the people who are inside the hangout.
And the second, public or on-air hangouts can be live-streamed by everyone.
I hope you got a rough idea about Google hangouts.
Now, you can move on to how to Google hangout.
How to Do a Google Hangout? (Private Usage)
As I said earlier, only chosen people can take part in this type of hangout. You can easily add people whenever you want. But the uninvited people remain alien to this type.
Before initializing a hangout, check the following things.
#1. Make sure that your camera and microphone are set up properly.
#2. Google describes the minimum system requirements to run Hangouts. Read and match the same with your computer configuration.
#3. Chrome users don't need a plugin to run Google Hangouts. But every other browser should have a plugin from Google. Click here to download it.
#4. Before starting the Hangout, make sure that it can access your microphone and camera as well.
Follow the steps given below to know how to start a Google Hangout.
Step 1: Sign into Google and go to Google Hangouts page. You can see three main options here- Video Call, Phone Call and Message.
Alternatively, you can visit Google plus. From the top-left menu, you can spot Hangouts. Click on it. Now, you will get a page like this. Choose that green button to access the Hangout page.
Step 2: Choose Video Call. Now, you will get another window. If your system has a low configuration, there may be a chance for it to make the browser crashed.
And, you may be asked to permit your microphone and camera for being used in a Hangout. Do it without any hesitation.
Step 3: You can see a field here like one in the image, given below. Type the Gmail address of people with whom you want to chat with. If you wish to talk with someone in your Gmail contacts, you can directly enter the name also.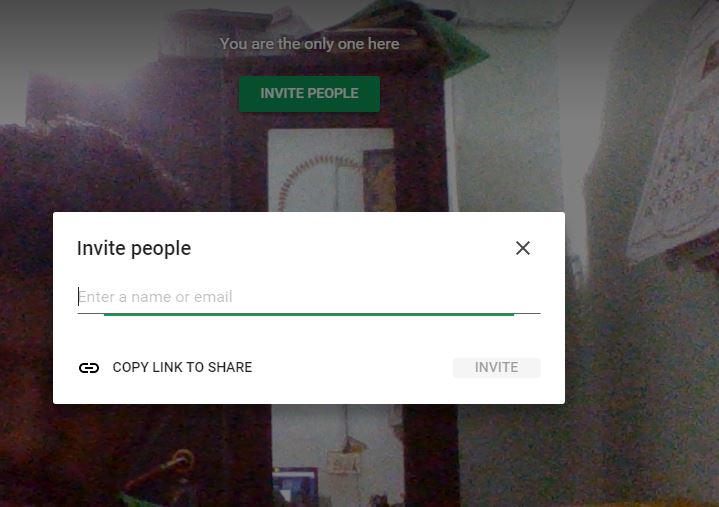 It is possible to copy the video call link and share it with them to join.
(I will make you understand about the different features that can be used during a Google hangout)
How to Google Hangout? (Public Usage)
When it comes to hosting webinars, a group video call does not help you. The best thing is to make your video available to the public. We can use Hangouts on-air for this purpose.
Follow the steps given below to start a public hangout.
Step 1: Follow my instructions in the previous section before beginning a hangout. And, login to your Google account.
Step 2: Go to Google Hangouts and click on the three stripes button located on the top-left portion of the screen.
Step 3: Send your eyes down below to spot Hangouts On Air. Click on it. (The very same page can be accessed directly from Google plus also).
Step 4: Click yellow Create Hangout on Air button. You will get a small box where you have to give the public hangout a name and description. You should also specify the time and who you want to watch it.
It is possible to add specific people as the audience if you want them to receive notifications about the hangout.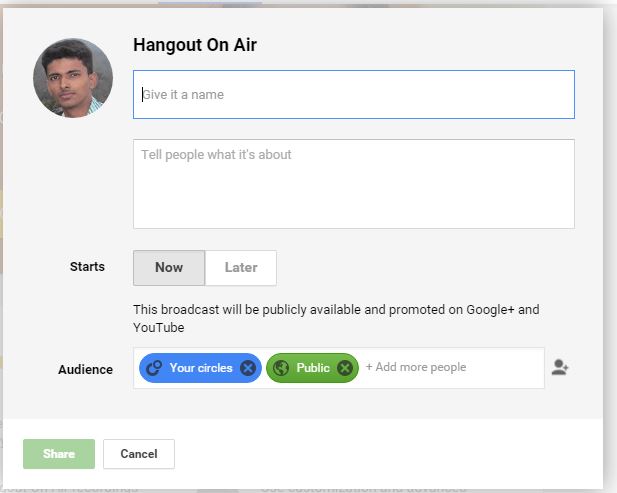 Step 5: To start the hangout, go to Google plus and then your events page. There, you can see this hangout as an event. Click Start and invite your participants. That's all.
Some Features You can Use during Hangout
Now, we can look into some features that are very useful during hangouts. Check out the image below. I will be explaining one by one.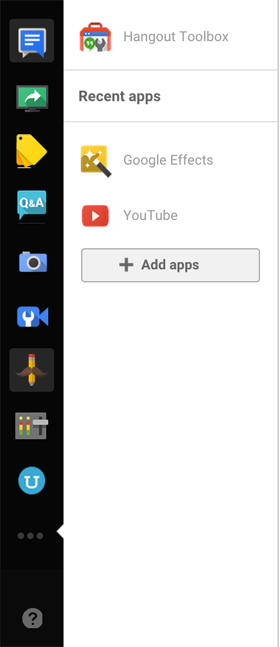 The first one is a group chat icon which is the best way to invite someone to participate in your webinar if that person is not yet invited.
The next icon indicates Share Screen Google Hangout using which you can share your screen. It is useful for those who host webinars and classes.
Using the Tag icon, you can pin some website URLs on the right side of the hangout screen.
As the symbol suggests, Q&A allows you to start a Q&A section within the hangout.
For taking screenshots, you can use the camera button.
The video camera icon controls how each one appears in the hangout.
Another useful feature is the Uber Conference app which can be used to create a conference call number in case you can't catch the live streaming.
If you want to stop someone from hearing your hangout, use the Control App icon.
Hangout Toolbox icon reveals further features to add charm to the section.
For special effects, you can utilize the effects icon.
And, for live YouTube streaming, the last icon can be used.
Bottom Line
I hope you now know how to use Google+ hangout. If you have any queries regarding this, you can use the comment form to let us know about it.
Have a beautiful day.