Apple TV is nothing but a digital media player with micro-console device. It is a small device, which is used as a network gadget and for entertainment purpose to receive digital data from different sources and then stream into a capable format for playing on the TV screen.
Apple TV is basically an HDMI compliant device. To use it, the high definition TV has to be connected via HDMI cable to its HDMI port when the HDMI mode is on.
The device has no integrated controls; so, to control the device or to get the answer for how to turn on Apple TV or how to turn off Apple TV, one can do it externally.
To do the operation, you can use the Apple remote control device, which works on infrared. Or you can do using the iTunes app on iOS devices such as iPhone, iPod, iPad and Apple Watch using its Wi-Fi capability.
Its Wi-Fi capability is used to receive digital content from the iTunes app using AirPlay or directly from the iTunes Store, which can be directly streamed to the TV.
It plays digital content directly from the iTunes store. In the iTunes store, there are many providers that have already tied up, including Youtube, Veyo, Showtime Anytime, Netflix, Hulu Plus, Now TV.
In this portal, there are several other platforms available like MLB.tv, NBA League Pass and NHL.tv. It can play content from any OS X or Windows computer running iTunes.
At the beginning, the price of the Apple TV was too high, which is why people were not purchasing it. In 2012, the manufacturer dropped the price of Apple TV to $69, which made it a good sense to shop.
After installing it, you can get all your iTunes and other content on the big screen TV. With AirPlay, one can play or stream most video and audio right off from the iPhone or iPad.
To see the show, you just have to put a display into your room or any other place, which will bring the feasibility to enjoy the TV from any part of the home to offer a good experience.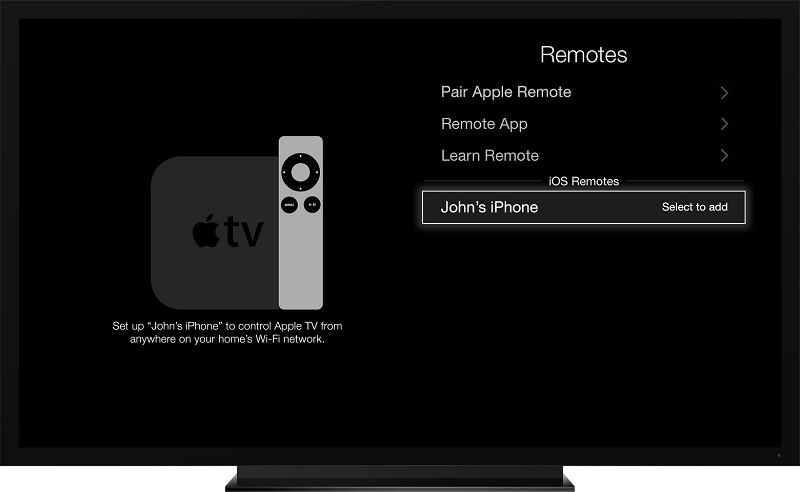 Now let's learn how to turn off Apple TV and turn on Apple TV without remote.
Starting Apple TV is very basic. Press the Right, Left, Up, and Down buttons to move between different options. Press Select and pick the option. Press the Menu to go back. Press Pause/Play to Start or Stop the media.
To return to the home screen, just press and hold on to Menu for 3 seconds to jump all the way back to the main Apple TV Home screen.
To move or hide icons, press and hold on to 'Select' for the 2 seconds to enter the jiggly mode and re-organize symbols. After that, push Pause/Play to hide an icon.
You can change the video settings by pressing the button, which is present on the remote. For this, press and hold for 3 seconds while watching iTunes video bring up speaker settings, closed applications, audio, and subtitles.
At any point in time, if you feel that you have to rewind if you missed out or very interesting part, then press and hold Left to rewind for 30 seconds. Press Left to rewind continuously. Press Left repeatedly to alternate between fast, slow and medium rewind speeds.
To get the fast forward mode, press and hold the Right button to fast forward for 30 seconds. Press and hold on to the Right to fast forward continuously.
Press Right repeatedly to alternate the speed between slow, medium and fast forward.
To enjoy the slow-motion video, press Pause and then Left or Right or go forward in slow forward motion.
In many scenes, if you feel that you are not interested or you are running out of time, but want to see the movie till the end, press Pause and then press and hold Left or Right to rewind or go ahead in slow motion. Press Play Again to resume normal viewing.
Push Down to change to part mode. Push Left to hop back a chapter and press the Right to jump forward a chapter. In case the video doesn't use chapters, you will skip 30 seconds or 1/20th of the video length, whichever is longer.
To mark an episode, press and hold down Select while in iTunes TV shows to mark all or individual episodes as watched or un-watched.
To switch keyboards, press Pause/Play when entering text to switch between alpha, symbol keyboards and numeric. Press and hold 'Select' for two seconds to bring up the accented characters and then press Pause/Play to choose the one you want.
If you face any issue in your Apple TV then you must restart it. For this, press and hold Down and Menu for 6 seconds. Else you can unplug/re-plug to fix.
To keep it in Sleep mode, press and hold Play/Pause for 5 seconds to put your Apple TV in standby mode, though it has an activity tracker that can sense whether the device is in use or not. If you are not using it, then the device will automatically get into Sleep mode.