The title of this article is "How To Set Up Your Own WampServer", so I'm pretty sure no one is oblivious to what this article is going to be about, right?
So I won't beat around the bush either, I'd just make it clear and simple for you, in fact, the simplest process for How to install and run wamp server on your local machine.
But before that, as always, let's get started from the basics.
What does WAMP Mean?
Well, to some of you it might seem that WAMP is a kind of software of program that will just create a server for you instantly, that's not entirely correct.
WAMP is just the short-form of "Windows, Apache, MySQL, and PHP". So individually, WAMP isn't really a thing, it's just a collection of things you'd need as solutions to questions like How to run PHP files using wamp server.
Now all those things which WAMP stands for are needed in order to let you host your site on your local machine (WAMP Server), so using WAMP makes it easier or else you'd have to download each of those packages separately which is just 3x the time and energy consumption for the exact same files.
So okay let me get a bit deeper into those files right? Only then you can get a hold of what exactly they are and why you need them.
Windows:- It makes sure that the program is compatible with the Windows operating system.
Apache:- This is the real magician. It's the program that lets you host the websites.
MySQL:- I think you already know about it, but in case you don't, your HTML files aren't complete in themselves, on any website, there are one or more login credentials, like usernames and passwords, and they're stored in the MySql databases.
PHP:- It's more of an optional option but anyway just "HTML" isn't enough to create and run a website is it? That's where PHP comes in, it makes sure you're able to create something more than just static Html websites.
Now considering you're not on Windows and are on Linux instead, in that case, you'll be needing a LAMP, but that's for another article, let's keep this piece confined to questions like how to open wamp server, and how to test wamp server.
How To Set Up Your Own WampServer:-
So okay we're down to the section you've been waiting for, the setting up of the WAMP servers.
First of all, download a WAMP package.
Installation is pretty simple, nothing out of the box there so just proceed with it, and once you've completed the installation, you'll get a box like this on the right -bottom of your bottom bar which confirms that installation is successful

Now, type "localhost" in the URL bar of the program, and you'll be greeted with the default welcome screen, if you're getting the below screen, it means that all the files (apache, PHP, etc) have been installed correctly.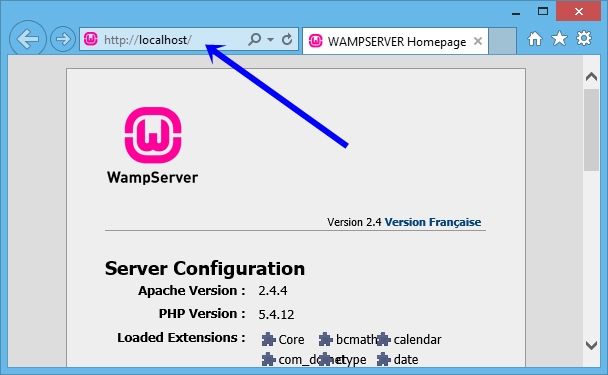 Done! Well yeah, that's pretty much it! You've your own WAMP server up and running, but still, let me get you some more answers.
Hosting the Files:-
So now that you've your own WAMP server up and running, where do you put the files, right?
Doesn't matter what you're trying to host, all the files need to go to the "www" directory of your Wamp server. And you access that by just right-clicking on the WAMP icon in the notification bar at the right-bottom and selecting the WWW directory.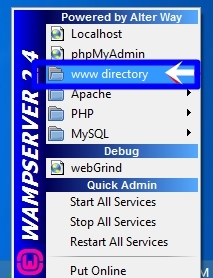 Method #2 to Host your Files on Local WAMP Server:-
Considering you've installed WAMP in the default directory, it would be the C:// directory.
In that case, all you'd have to do is, take your files (index.php, style.css) or whatever, and paste it in this directory:-
C:\wamp\www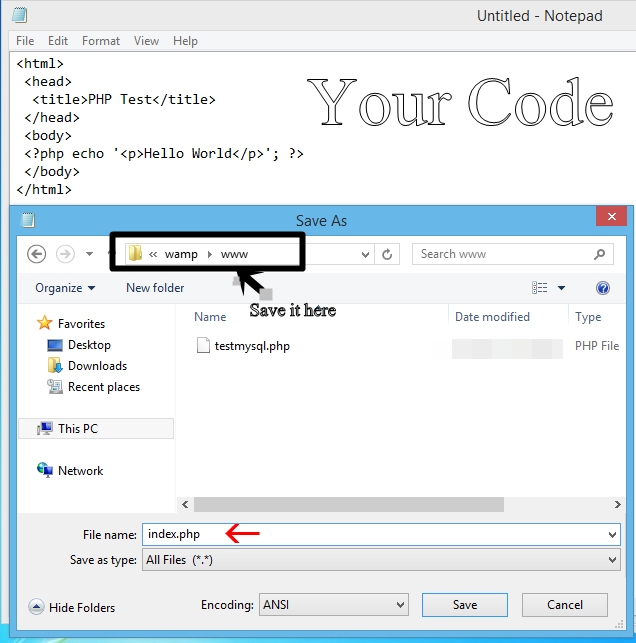 It's the same thing as pasting it on the www directory, just a different method.
And once you've done that, you can again go back to your WAMP server, hit "localhost" in the URL bar and you'd get the results of whatever you pasted.
Okay so if the files are working it's time to put your site online, right? "localhost" means your website is only accessible by "you" on your local system.
How to Take the Local WAMP Server Online:-
So okay right-click that little icon in the notification area again, and select "put online".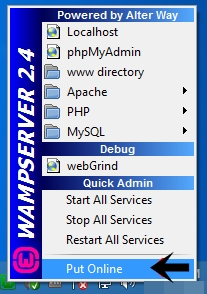 Now, the apache configuration files are set to restrict incoming traffic by default, so that only you (localhost) can access the site. But we need to allow the permissions, right?
In order to do that, right-click the notification bar icon> Apache > httpd.conf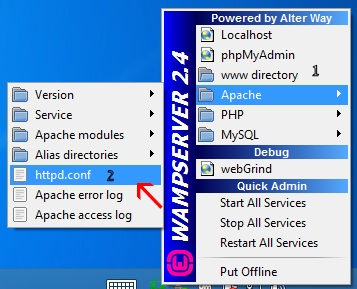 In that file, find the line that says
"
Order Deny,Allow
Deny from all".
And you need to change it to:-
Order Allow,Deny
Allow from all
Once that's done, just restart the services again, that you can do by right-clicking the notification icon again, and clicking on the restart option.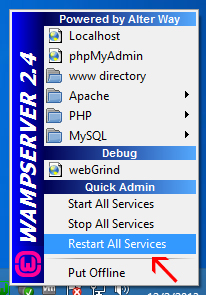 Done! If you did everything right, now your website is accessible worldwide!
Important:- It's not advisable at all to use a local machine for hosting websites, opening up your local network to the world is similar to giving a key to your house to your whole country. Instead, use professional hosting companies like Bluehost or Hostgator maybe.
Final Words:-
So that was all I had folks on How To Set Up Your Own WampServer. I'm sure I didn't make it hard for you now did I?
So if the piece was helpful and you were successfully able to set up the WAMP server on your local machine, I'll look forward to hearing your experience with it in the comments section.
And of course, if you're stuck somewhere I'm here to help.