How to livestream on Youtube? If that's what you're looking for an answer for then you're at the perfect place.
Youtube live streaming is precisely what this article is all about. Live streaming on Youtube was launched sometime last year, and ever since it's being integrated over other platforms as well.
It has even been rumored that Facebook will soon launch a live-video stream feature, so bottom line is "live-streaming" isn't something that only sports channel have access to anymore that's what Youtube live stream has brought us.
What is Youtube Live Broadcast?
Live stream on Youtube is exactly what the phrase indicates. It's the ability to stream yourselves live on Youtube.
Your webcam starts acting as the camera, and your audience can watch your feed live as well as interact (comment / like) the video in real-time.
Common Uses of Youtube Live Streaming:-
Q&A Sessions. If you run a firm which needs interacting with your audience, live-streaming is a great way to get in touch. Of course I'll be showing you how to live stream shortly.
Webinars:- This is why I personally use live-streaming mostly. Webinars are a great way to explain, teach, or just market a product.
Coverage:- If you're at some place and you need to upload the happening incident at the moment, you can do so with the live-stream.
Gamers: There are a lot of Gamers on Youtube who love to go LIVE while playing the Games. That way, you can enjoy the Gameplay and also get more subscribers to your channel.
Benefits over the Traditional Video Uploading Method:-
The traditional method of uploading videos on Youtube is pretty old-fashioned already.
No recording needed:- With the live-streaming feature you don't need to record the video beforehand.
No "uploading" needed:- You don't even need to manually upload the video. As the video progresses in the live-feed, it gets recorded in real-time.
Faster:- Now that two most time-consuming steps get eliminated (recording and uploading), the overall process definitely gets a speed boost.
Problems with Youtube Live Streaming:-
Live streaming has the problem of "being live" ofcourse. If you say something you shouldn't, show something you shouldn't, do something you shouldn't, you can't cut/edit it.
Not at the moment atleast, you might be able to edit the part out later once the video has been completed and comes to your Youtube channel as an extra video, but "during" the live feed you can't just "undo" what you just did, right?
How to Livestream on Youtube?
So here's the section where I'm showing how to stream on Youtube, so let's get down to business.
You need to browse to https://www.youtube.com/live_dashboard on your browser and then simply click on "Stream now".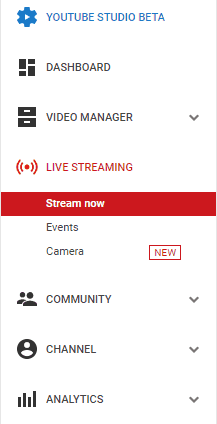 And then click on "Set up Encoding software" option on the left tabs, and click on the "guide to encoding" link in the options which would take you to an encoder's page.
Download the encoder which best suits your needs from this list.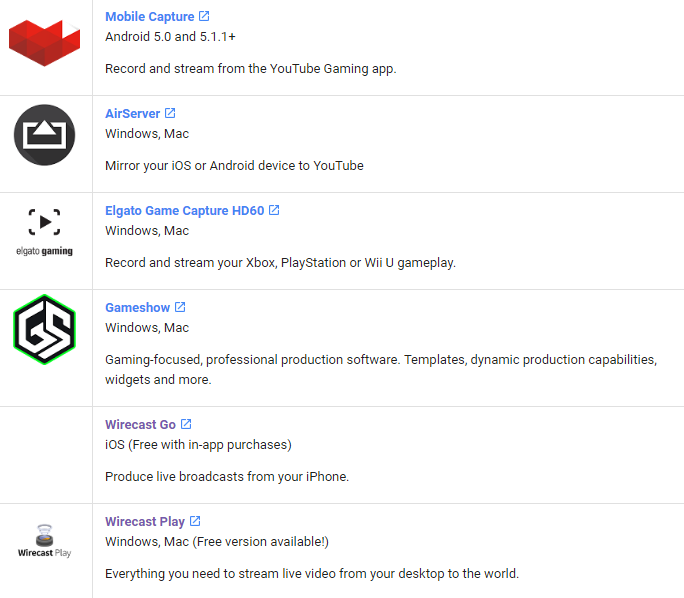 I'm going with Wirecast for this tutorial. So I'm downloading the encoder at the moment.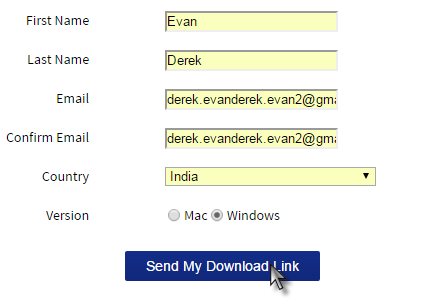 Once you've downloaded Wirecast, run it.  Click on the "stream" button at the top.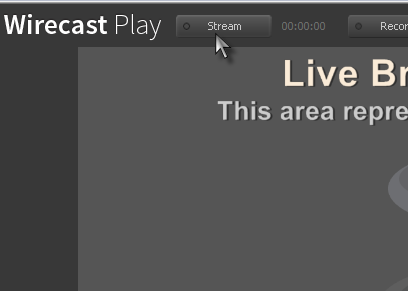 A popup would come up, this is where you need to authenticate and link the encoder with your Youtube account.
Click on the "Authenticate" button, and it would ask you to login to your Youtube account.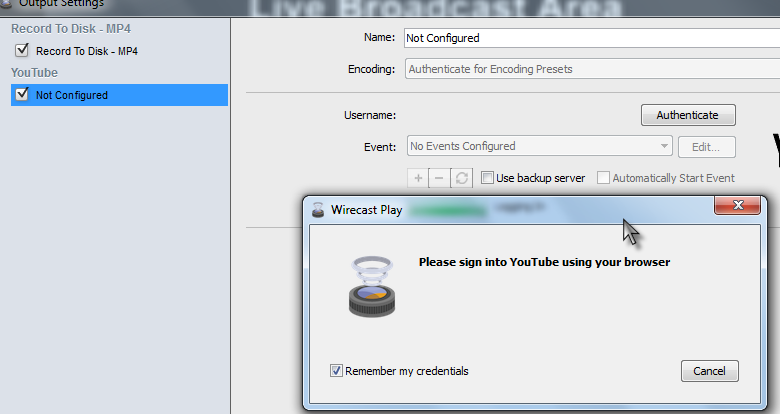 So fire up your browser and login to your Youtube account. Youtube again will ask you for some permissions which you should grant if you want to live stream on Youtube.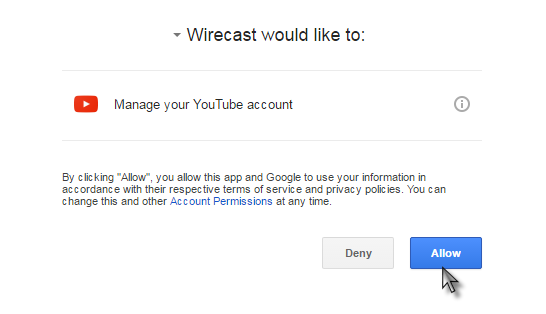 Once the permissions are granted, you will get a streaming key from Youtube. You can copy this key but I never needed it for my streams.

Just return to Wirecast and you would see that there's a red dot beside the "stream" and "live' buttons, meaning you're live now and your video is being streamed to your channel.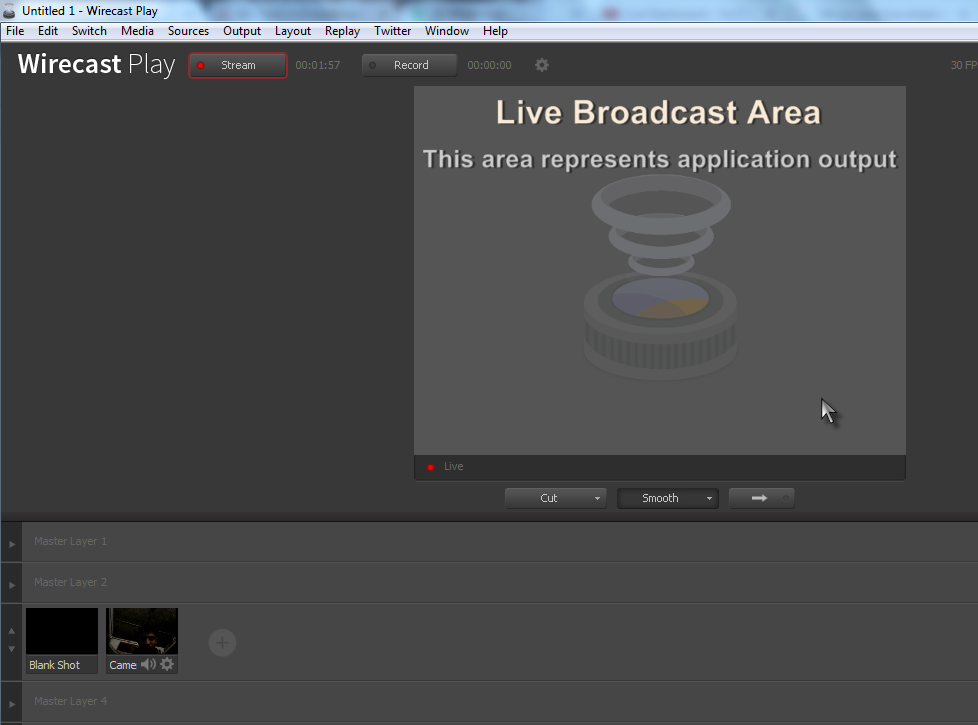 Done!
This was just one of the methods/ processes you can follow to live stream on Youtube. There are many other ways as well, for instance using the Google hangouts on air, those are much simpler but I personally like third-party encoders because I get much more control with these.
Final Words:-
So that was all I had on how to live stream on Youtube folks. I hope this piece solved your problems regarding live stream Youtube. You can also go LIVE on Facebook and if you don't know how to go LIVE on Facebook, see that link.
Youtube Live streaming is definitely one of the most innovative steps that the "Internet" has taken forward.
And it being available so easily, for free, to everyone is another milestone in itself. Just like any other Google product, ofcourse it's free while if you analyse it on a solid ground, I would say it's a feature other startups might easily charge quite a fortune.
Anyway do let me know your experience on this article, and if you're stuck at a specific step or are having problems authenticating or streaming the encoder, feel free to use the comment box that's what I'm here for.
Not to mention that I would really appreciate if you guys hit the share button and spread the word around.