The iPhone is unlike the other smartphones in the market, which is precisely the reason so many individuals are drawn towards it. There are many features in iPhone, which makes users addicted to it, but being different is not always a good thing.
For instance, the iPhone does not allow its users to back up their contact files on their SIM card, which an Android user can and this at times can be a cause of worry.It is normally seen that when a person starts using Apple iPhone he gets addicted to the Apple products and sooner or later buy a Mac as well.
Then he faces the important task of How to import contacts from iPhone to Mac?
The unfortunate truth is that Apple wants users to rely on iTunes to back up all of the information on their iPhone, which is fine as long as the iPhone is not jailbreak. But users would still like to have a way to export contacts from iPhone without using iTunes.
The new iOS 9 and OS X El Capitan work seamlessly together. There is no issue at all as the continuity feature allows you to make and receive phone calls with Mac as long as your iPhone/iPad and the Mac are on the same Wi-Fi network.
It is really great to see both the devices working in complete unison. The problem comes if you lose your iPhone. For such cases, you would like to import contacts from iPhone to Mac as no one wants to lose the contacts list.
It is really a tedious job to make the list again from the scratch. So, you would like to know how to transfer contacts from iPhone to Mac in order to have a copy of it on your Mac.
How to Import Contacts from iPhone to Mac
When it comes to syncing contacts from iPhone to Mac, iCloud is a good option to choose. This can, however, sometimes lead to the annoying situation as it does not allow syncing of the selected items.
If you are eager to know how to export contacts from iPhone using iCloud, you should be prepared to sync all contacts, not the selected items and also you need to log into the same Apple ID. iCloud right now is the default service that Apple offers you to sync contacts from iPhone to Mac.
Let us now see how to import contacts from iPhone to Mac using iCloud.
Step1. This works for iPhones 4S, 5, 5S, 6, 6S. If you want to sync contacts from any of these models to your Mac, tap on Settings > iCloud from your iPhone.
Step2.  Sign in with your Apple ID. You need to have the same ID on both your phone and Mac.
Step3.  Find Contacts option here and toggle it to ON.
Step4. Enable iCloud on your Mac. To enable it, go to System Preferences. Find and open iCloud. Sign in with the same Apple ID as your iPhone. Select Contacts to enable it.
Step5. Once iCloud is enabled on both the devices, all your iPhone contacts are synced to your Mac via iCloud.
Step6. If you have set up iCloud on your computer, then you have associated your address book with iCloud and all your contacts automatically gets saved there.
How to Get Contacts from iPhone to Mac as a vCard File?
Step1. Open a web browser on your Mac.
Step2. Open iCloud.com
Step3. Sign in with your Apple ID.
Step4. Click Contacts icon.
Step5. Click the settings icon at the bottom left and select Export vCard
iPhone Contact to Computer Transfer or iPhone Contacts Backup is the name of a program that all iPhone users need to have on their computer. This is because, for most iPhone users, their contact list is of utmost importance – something that they can't afford to lose.
Though using iTunes or iCloud is the standard way for syncing the contacts, some people complain that they don't like to use iCloud to transfer contacts from iPhone to Mac for security reasons. If you are among those
Who want to sync only selected contacts from iPhone to Mac not all of them,
Who want to break through the limitation of having to log into the same iCloud account on both iPhone and Mac,
Who want to sync iPhone contacts to the Mac Contacts app and save the contacts as CSV file on Mac hard-drive,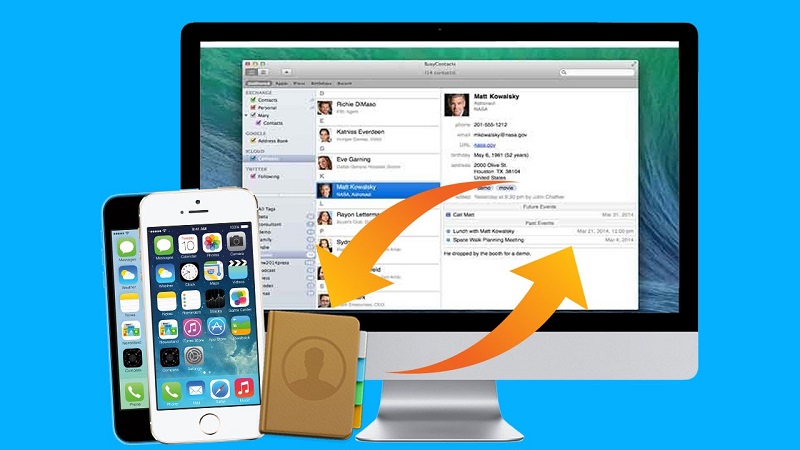 Then, you have an option of using third party apps. These apps are a dependable and effective way of adding, removing or exporting contacts stored on an iPhone, iPad or iPod using your Mac or PC. There are many apps available, which normally perform some or all of the following functions.
They help you to export contacts to any Mac or PC and that too without any iTunes or iCloud syncing.
They make it easy to import into Microsoft Outlook. You simply need to drag and drop.
Some of these apps also support groups including Facebook & Gmail contacts.
They follow a universal export format, which is multiple or single vCard.
Some of the apps also have an option of advanced file export, which is CSV for spreadsheet applications.
These apps have made life really easy for people who wanted to break the need of having iTunes or iCloud to transfer the contact list and also for those who have jailbreak models.
All you need to do is download, install and launch the program provided by the third party. These are easy to use as simple instructions are given. Just follow the instructions and proceed.
Importing or syncing the contacts from your iPhone to Mac is an important thing to do on a regular basis as it protects you from losing your contacts in case of a phone theft.
Also, in case you want to change your phone or upgrade your iPhone to the latest model this syncing comes handy. Follow whatever method you find better, but the key is to always keep your contact list updated.