How to fully backup my site? That's your problem? You're in for luck, that's exactly what this piece is going to be about.
Let me tell you, it'll be short, precise, and illustrative. I'll be covering each and every step, along with screenshots. So no complications included.
If you're reading Knowledgecage for quite some time now, you are familiar with my writing style by now, aren't you? I start from the very basics and clear almost every concept and confusion associated with the topic.
So before showing you  How to take a backup of a WordPress website, let me start from the basics.
What is a WordPress Backup:-
A WordPress Backup is a failsafe, something that lets you get back the current status (the status of the time the backup was saved) if something goes wrong on your website.
It is a combination of all your files and important data which lets you get your site back. Literally, they're like time travel capsules for your blog, which takes your blog back to a certain time period.
When and Why do you Need a WordPress Backup:-
Okay so they let you travel back in time and restore your blog to a certain date, that's good. But before asking How Do I Create A Full Backup Of My Site, shouldn't you be asking "why' do you even need that backup?
Well, let me answer that.
1. The primary reason why we all take backups is, just as a failsafe. No reason in specific, but just to ensure that if something happens to the blog tomorrow, all your years of hard work aren't diluted.
2. The second reason when I take shelter with a backup is when I'm making a major change on my website. Changes sometimes go south, and so does the blog along with them. So again, I want to make sure that I have a backup with me to bounce back if something like that happens.
3. And a third primary reason that makes a backup useful is when you're migrating your site. Either from an entire domain/URL to a fresh one, or just changing the servers. In both cases, you're shifting to a new host/domain, and thus you need a backup to re-upload your website.
Those three were the most common and used reasons when it comes to taking a backup. But let me tell you, even if you don't have any of these reasons at the moment, initiate a backup right now! You need, you totally need a backup of your hard work, no reasons mandatory.
How to Fully Backup My Site:-
Now, what does a "FULL" backup mean? Well, a full backup means a total backup that has all the files which are important and can be backed up. So does this mean there are "partial" backups also?
Yeah, of course, there are. At times, people only backup parts of their website, and not the whole site. But this post is about a full WordPress backup, so let me tell you what you can expect in this article:-
How to backup WordPress Posts/Images/Links and stuff.
How to Backup Email Aliases/Home Directory/ Email Filters etc.
How to backup the WordPress Database. (I've already written a post on that separately, you can have a look at that if you prefer.)
How to backup server files and anything else that's important.
That's what completes a WordPress Backup, that's what a "full" backup means. Now there already are a lot of tools and plugins in the market, that let you do that. If you're interested in a shortcut method on How to Create a Complete WordPress Backup for Free, you should probably read our post on How to backup WordPress.
It's a post where I've scribbled down some tools for you. But if you want to go with the learning curve and a more hardcore approach, here's it.
Backing up the Cpanel Files:-
Login to your Cpanel, and search for Backup in the search bar.

It will bring up the backup wizard, click on it.

Now click on the Backup option.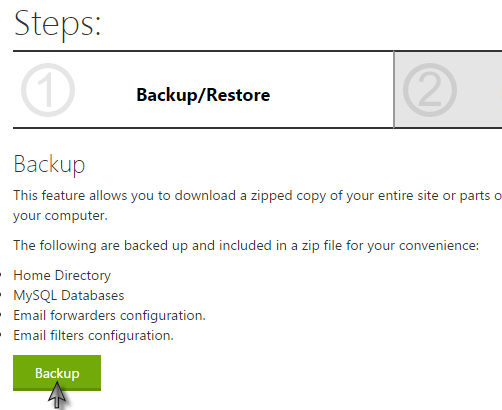 Now select the Full backup option. It contains all the files including your Home Directory/ Email Aliases/ Email Forwarders etc.

Now you have to select the destination where you want the backup to be stored. If it's your first time, and you don't know a lot about backups, just stick with the default "Home directory" option.
If you're an advanced user, go with any other option. Basically the Home/Directory option saves the backup file to your Cpanel's home directory because you can't save the file directly to your desktop from the server, right?
So okay, enter your Email Address where you'll be notified once the backup is complete, and click on Generate backup!

Done! You'll be notified on your Email once this backup is complete, now let's move on to the next step.
Backing up WordPress Posts/Images/Links etc
You just backed up your Images (I mean the physical images, where they're stored!), but you need to back up the posts and the URLs where they're stored too, right? Only then www.yourURl.com/image will give you that image. Just having the image on the server isn't enough.
So okay login to your WordPress dashboard, and click on tools> Export.

Now you can choose what part you want to export. But since you wanted to know How to fully Backup my site How to fully Backup my site, just click on All Content Option.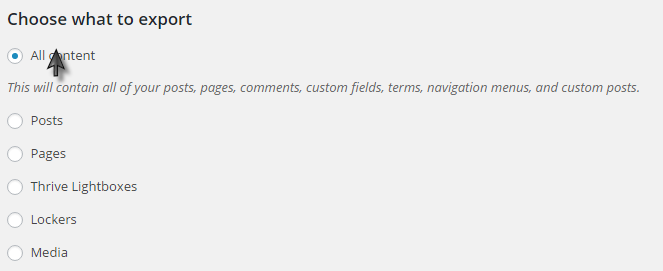 And then finally click on Export Backup.
Done! You must have got a .xml file downloaded automatically on your browser, that's the backup.
Final Words:-
So that was all I had on How to fully Backup my site guys! I'm sure I've left nothing else to be covered.
If this piece helped, do let me know in the comments, every little feedback helps, and if you want to, I wouldn't mind you hitting the share button either.