Google+ is the company that came around December of 2011, replacing "Google Buzz".  Probably with the high aspirations of taking over other social networks (Which it sadly seems to fail), but even then it was able to acquire a user list of around 480 Million people! So are you one of those early adopters of Google+ who now want to know how to delete google plus?
Well, thanks to their billion dollar promotions and industry domination, but then again, it deserved it. On an overview basis, it's a pretty efficient social network that does almost everything you expect a social network to do, and it's being improved even by now.
In fact, it was quite unique in its own creation. Not a copy from any angle of any other social network. It introduced a lot of things that didn't even exist before it, now why it's not as popular as Facebook is still a mystery, but if we take a look at the features, which are:-
User profile

Circles

Stream

Identity Service

Hangouts and Hangouts On-Air

+1 Button

Google+ Pages

Communities

Google Local

Photography

Unique URL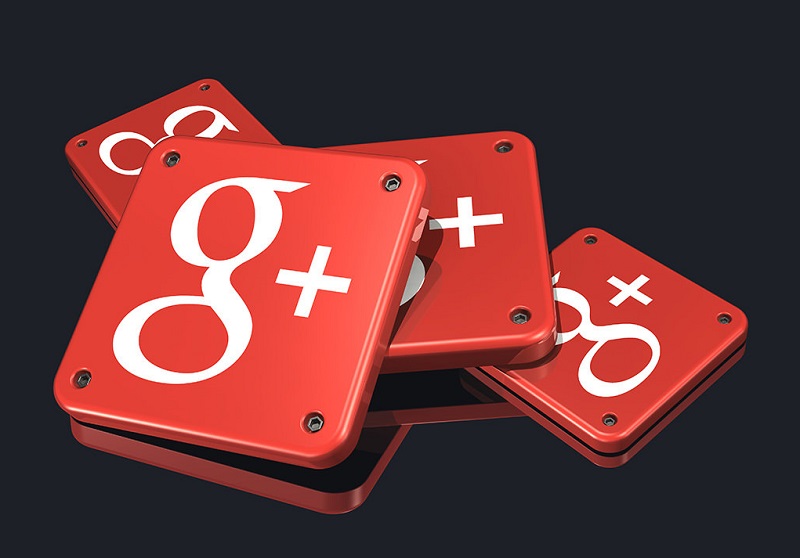 I've bolded out the last feature, right? Well, that's because Google Plus invented a new kind of username syntax. Mostly on social medias, your username is something like socialmedia.com/username or socialmedia.com/account/username, right?
While what GooglePlus did was, it added the [+] symbol in the URL. Say, our Google Plus URL would look like plus.google.com/+pagename , now this definitely was something unique on their part.
I'd say, yes not all features were unique, but still some definitely were. Say, for example, the "circles", or the "hangouts on air" were pretty new additions to the internet world. But still, there might be times when you don't want to be a part of the community anymore, and maybe want a retirement in solitude up in some mountains or whatever.
But just because you created a Google+ account, doesn't mean you have to be on it forever, right? That would just be scary, I mean, there might be times when you might want to delete your Google Plus account.
Why Might You Want to Delete Google Plus Account?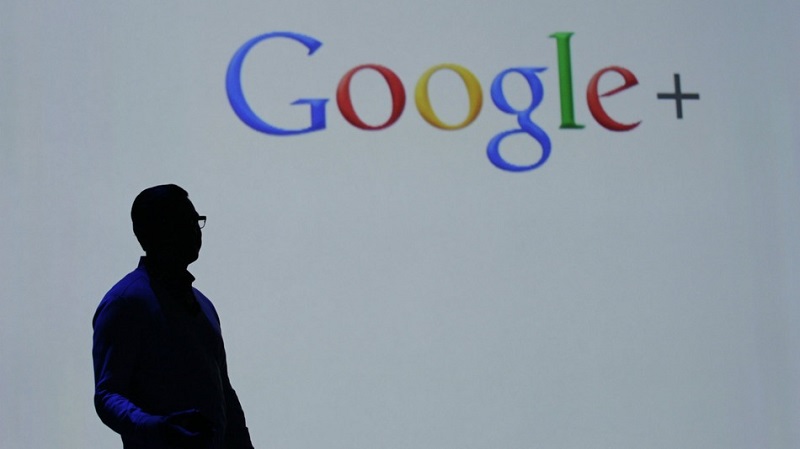 Well, there can be a long list of reasons, right? Let's say you might not be having enough time to operate it. So it's like no use being there.
Or, maybe you already have another GooglePlus account in that case too you might want to delete this Google Plus account. Or, probably you aren't as much interested in GooglePlus as you might be for other networks.
Or, if we move to more serious reasons we can count being stalked as one, it's common, especially if you happen to be a female, that some psychopath is stalking your profile; ( Okay chill, that happens mostly in movies, he might just be your friend stalking you, not a psychopath). But even then, being stalked and knowing about it is not the most comfortable knowledge to live with, I'd be the first admit that.
And in all those situations, you be like "How do I delete my Google plus account" ! And that seems to be the issue. Specially if you aren't the internet freak who has spent the better part of his life in front of a box with a keyboard and mouse.
How to Delete Google Plus account?
It's not as complicated as deleting the nuclear launch codes from the President of America's system, yeah trust me. You can delete your Google plus account in simple steps that take less then 2-3 minutes to complete !
Okay so, hit up plus.google.com.downgrade.
You'd be taken to your Login Page, Login using your credentials of the account your want to delete.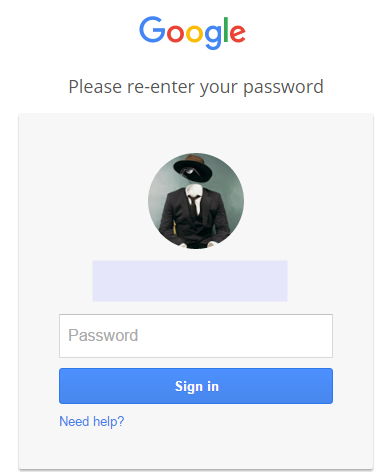 Now, you'd be taken to the Delete page where you will be presented with a list of options and warnings. This page tells you what will be deleted , and what will be kept after you click the delete button.
For eg. the profile would be deleted but the Google+ pages you might have created from the account won't be deleted. If you want them deleted, you have to do it manually.
Also, you won't be loosing your GMAIL account linked to this account, it would still be there and accessible. So in short, only and only your Google+ public page would be deleted.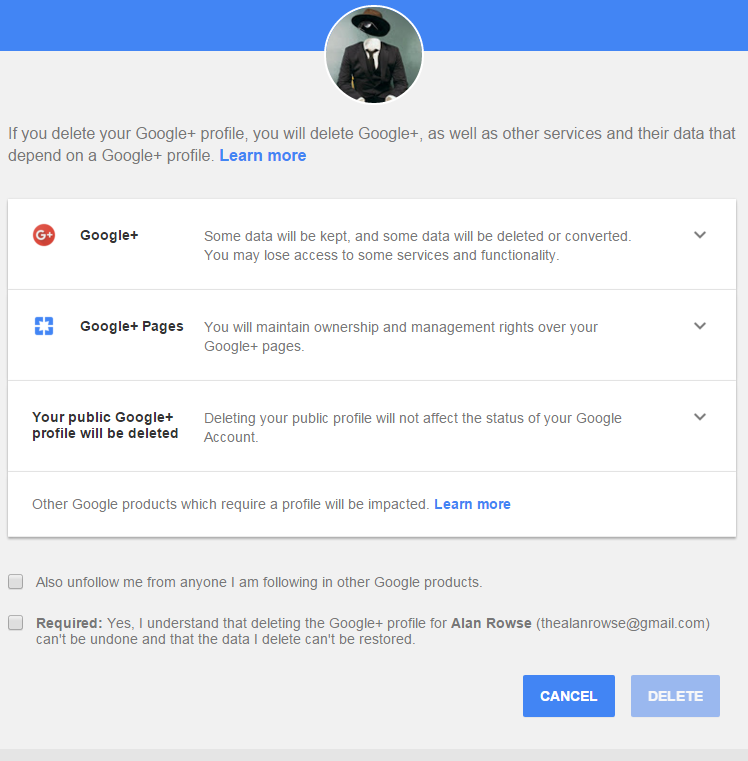 Once you've checked the things out, you can click on the box that says "Required". And then click on the delete button.

That's it, your profile is gone ! The next page would look something like this:-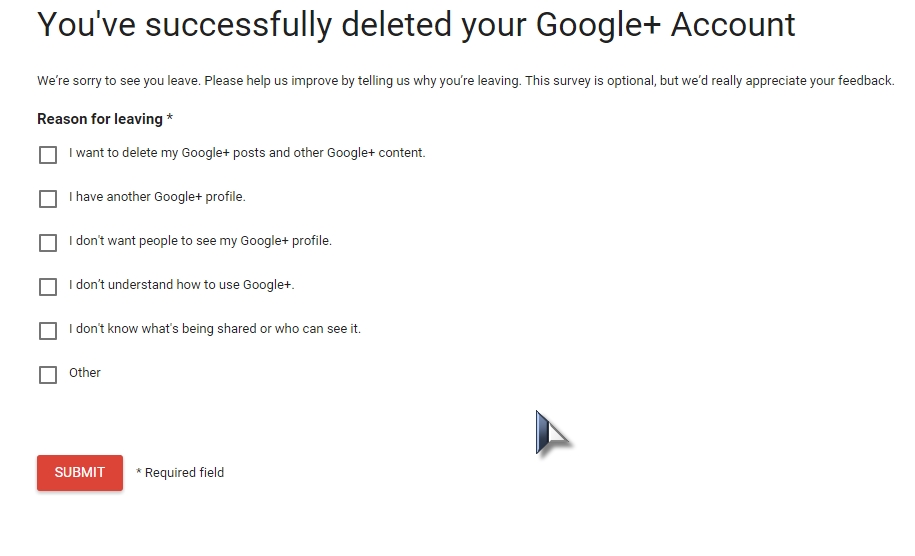 and you can (although it's not mandatory) give GooglePlus a reason why you're leaving. Click submit if you wish to. Or you can just close your tab right now.
Mission Accomplished!
So that was about it, by now you should have successfully deleted your Google + profile. If you still are confused about any specific step, let me sum this up for you.
Http://plus.google.com/downgrade > Click Required button > Delete button > Submit reason.
And whole of this process takes roughly 1 minute, or make it 3 maximum to get rid of your Google Plus account.  And it's fair and safe on my part to mention that this step would delete your front-end Google plus profile homepage, not your reviews or pages. Although you can delete them manually. Hopefully you've learnt how to delete google plus account by now!
While this will delete all of your social data and the posts that you shared on Google+, be very clear, this will not delete your Google account. Your Gmail, YouTube and other Google services will retain full functionality. If how do I delete my google account, is a question in your mind, then hang around with us, we'll be answering that question for you pretty soon!
If you liked this article, do give it a share on your social networks, it helps us out immensely! For any other comments or queries related to Google Plus, head on over to the comment section down below and drop us a line. We love hearing back from our audience!