Everyone is aware of the fact that iTunes is a media management software created by Apple Inc. for both Macintosh and Windows operating systems.
It is used to manage and play both audio and video files, but the problem comes when the data gets duplicated. Thus, there's the need to know how to delete duplicates in iTunes.
iTunes was released by Apple in 2001 when the software provided a media player and a way for Mac users to manage their digital music collections and sync them with their iPods.
In 2003, Apple decided to go a step further and added the ability to buy music from the iTunes Store. It was the same year when Apple released iTunes for Windows too.
In 2011, iTunes was integrated with Apple's iCloud service, which enabled the users to sync media, apps, and other data such as contacts, pictures, etc. across multiple devices. Apple ID is mandatory to get access to the iTunes Store, iTunes App Store, and iCloud.
How to Delete Duplicates in iTunes
iTunes is indeed the best way to organize and enjoy the music and movies that you already have. You can also shop for the ones that you want and are not in your library so far.
There is an option to tune in to Beats 1 radio presented by Zane Lowe and a team of acclaimed DJs. You just wish to enjoy all the entertainment iTunes has to offer on your Mac and PC uninterrupted by learning how to remove duplicates in iTunes.
ITunes keeps all your music together, so it's there when you want to listen. Gone are the days when you had to go through stacks of CDs or digital files.
All you need to do now is how to import them into iTunes and quickly browse through your whole collection. iTunes has given the flexibility of organizing your library the way you want and create playlists and enjoy them whenever and wherever you want.
iTunes is indeed a fantastic music manager, and it has become much faster, cleaner and more interesting to use with each passing year. However, there is one particular problem that persists and that is of duplicated audio files. Sometimes, iTunes gets multiple copies of the same song or even two copies of the whole album.
These duplicated files are annoying because they not only waste space and make searching more complicated, but also you end up playing the same song repeatedly. To prevent such an annoyance, it is important to delete duplicates in iTunes.
If you are determined that when you hit 'Next,' the same should not play again, then you need to remove duplicates in iTunes. If you are worried about how iTunes remove duplicates, be rest assured as it is an easy fix.
You can either follow the below steps for iTunes duplicate remover from within iTunes or use a third-party program or script to delete them automatically.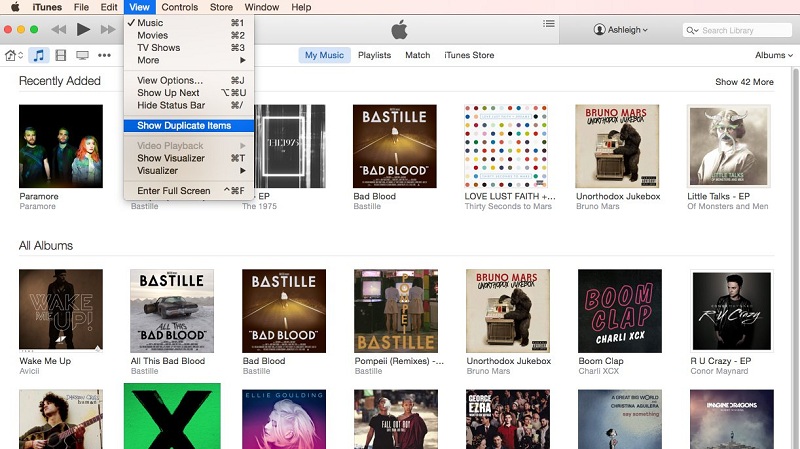 Steps on how to delete duplicates in iTunes:
Open the Music library in iTunes.
Make sure you are using the latest version of iTunes.
Press the 'Option' key for Mac, Alt key for Windows 7 & 8, and Shift key for earlier versions of Windows and click the View menu.
Select 'Display Exact Duplicate Items'. Older versions of iTunes may have the 'Display Exact Duplicates' option in the File menu instead of the View menu.
As soon as you select this option, your list of songs will change to all of the duplicate tracks on your computer. These are the list of those duplicates, which irritate you as they share the same song name, artist, and album.
If you don't hold the Shift or Option key, you will get the standard 'Display Duplicates' option. This shows duplicates based on the song name, but it does not differentiate between albums. So, if there is a re-recording or a newer version has come with some difference in beats, then too, it will show up as the duplicate.
Sort your duplicate list. Sorting by Date Added has an added benefit as it allows you to scroll down and delete your older versions while keeping the newer ones.
If you've sorted the list and can select a large chunk of songs at once, click the first one on the list, hold the Shift key, and then click the last one. The entire range will be selected.
Delete the duplicates by pressing the Delete key on your keyboard to remove them from your library.
Duplicated music files in iTunes can be a real pain. Once you are through with iTunes delete duplicates, your library will be fresh and clean.
 How to View Exact Duplicate Files?
One of the main issues that one can face while removing duplicates from iTunes is determining which files are duplicates, and which are simply the same song on different albums.
Sometimes, we intend to keep our albums intact, even if the same track is on different albums.
One way to sort this issue is to use the View Exact Duplicates in iTunes option. Choosing View Exact Duplicates only displays duplicate tracks that match the same Name, Artist, and Album.
The other way is to hold down the Option key and choose View > Show Exact Duplicate Items. This makes you view duplicate tracks from the same album. Sort the tracks and delete them manually by pressing the Delete key.
What If We Can Do Something to Prevent iTunes from Importing Duplicated Music?
Since version 11, iTunes no longer imports duplicate files if you drag and drop audio files to the iTunes library.
So, this problem is more or less sorted. However, it is always a good idea to double-check that iTunes is managing your music properly. To check, follow these steps.
Click on iTunes > Preferences.
Click on Advanced.
Make sure that the 'Keep iTunes Media folder organized' box had a tick in it.
Just make sure that the 'Copy files to iTunes Media Folder' when adding to Library has a tick in it.
Click 'Reset' all dialog warnings.
Click OK.
This will ensure that no duplication occurs in your library anymore, and you can enjoy your music peacefully.