Google Adwords is a sublime advertising platform for your online business off to a great start.
Possibly if you are a marketer, you may influence to neglect paid ads and wanted just to concentrate on creating great and rich content. However, cases and studies report that to get the best results you need to concern about both organic and paid search traffic.
In this post, you'll find out, How to start to advertise with Google. It is a step-by-step process you just need to follow. You are close enough from running your ads on Google soon.

STEP 1: How to Advertise on Google.
You'll need to create Adwords account to start Advertising on Google. It won't take more than a minute to create your account on Adwords if you already signed into a Google account. So proceed to Google Adwords login.
Open Adwords Website, Click on Start Now.
Provide an email address and enter your website.

Follow the instructions written there to enter your email address and enter your password
.
If you are making a new Google Account, You'll need to verify your Email Address. You'll get a confirmation email from the AdWords system, you just click on it to confirm your account.
Sign in to your AdWords accounts at adwords.google.com.
By doing this, you'll be able to sign in into Adwords at any time to change account preferences and see the Reports of your Ads – like how they are performing.
P.S. There is an update to the SignUp process before you needed to create a separate password for Adwords, Now just you need to use A Google Account with your website link – and you are good to go.
Step 2. Creating Campaign on Adwords.
Next, you wanted to create your ads. Here is the step-by-step procedure to do so
Login to Adwords and Click on the 'Create Campaign. Choose your Campaign type and proceed to the next step.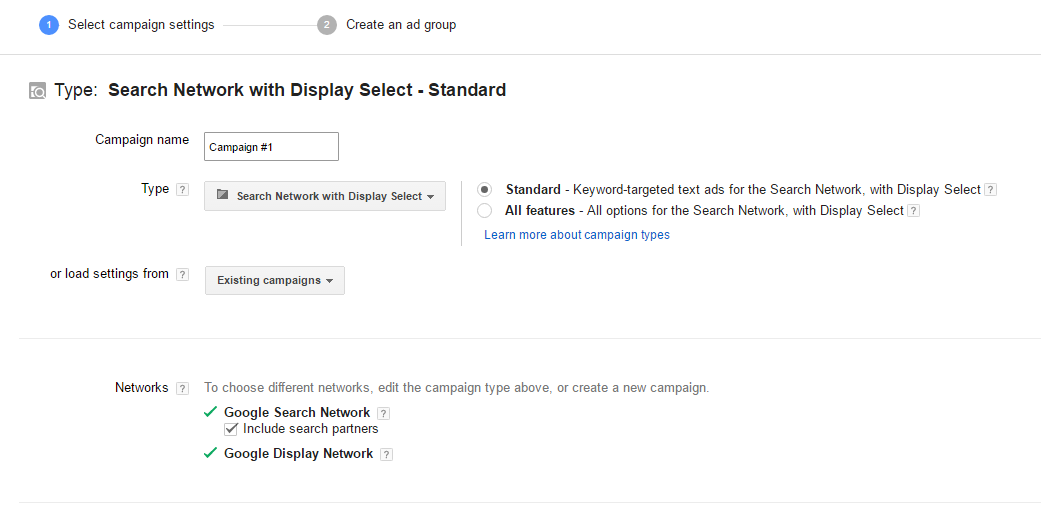 2.1 Creating Ad
Creating ads? Well yeah, it's the first step you're going to have to encounter if you're going to set up Google ads and if you ever wondered about how to advertise on Google!
Alright, it's important – but it's not crucial. You can edit, modify your ads anytime. AdWords let you customize your Ads like never before.

Tips regarding creating Ads.
→ In Ads write How you're different.
→ It's advisable to use pre-defined good terms, such as "Amazing service, value for money, professional, beginner, quick", etc. Also, concern what a user can expect from your company and your website. A Call to Action button will do the magic, include it.
→ It's way better to put "Buy Shoes" rather than "Shoes for sale".
→ Always include the most relevant keywords in the ad text.
→ Use bold in the search term or your Ad may go dull. ( This will cause your ad to perform better and to be noticed.
Your ad might be clicked more often compared to its stupid version.)
→ Not sure about which ad text is better? You can use Ad variations.
→ If you don't know or maybe you not sure about which text will work, you will need to create multiple versions of your ad, then you can compare them comparing their results.
Remember: You are going only to pay for your ads when someone clicks on them.
2.2 Keywords.
Keywords are the backbone, they are words or phrases, which help to call your Ads: if relative.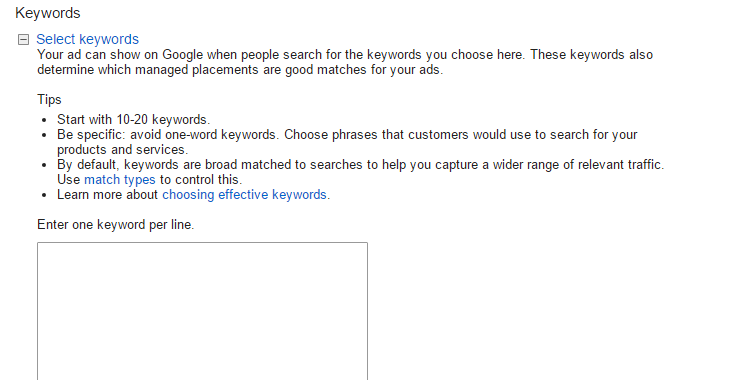 It's also an important task to be done with care; they help the audience to see your ads. Alright, First time you may find that the keywords you used aren't exact or well working. In that case, you can Edit, Remove or Add keywords.
After this Step and filling required fields, scroll to the bottom of the page.

Next, click on Save and Continue to billing.
Tips regarding choosing Keywords.
Relevance is the key.
If you're running a business of selling Lotus Flowers, use specific keywords such as "Buy Pink lotus flowers" rather than generic keywords like "Flowers".
Avoid using generic keywords like "Flowers" it may get your ads served more times, but the Audience may not interested instead of 'Lotus Flowers'. Also, you can use a particular phrase like ' lotus delivery.
Use Keyword tools to get Long Tail Keywords. And to find relevant keyword ideas for the purpose.
Keep checking your Adwords Account, to notice which keyword is getting more click at lower costs. These help you next time you're setting your ads up because you can use related keywords.
…
With Google AdWords, you have the option to decide how much you are willing to pay per day. In short, you are only going to pay when someone clicks on your Ad. this way Adwords is the excellent, cost-effective platform.
Tip: How high should I go regarding $?
Does Google advertising cost? Start with US$5 to US$10 per day. Make it higher if you see good results.
Step 3: Target a Geographic Region
May you be running a local business? If so you don't want to advertise on Google as worldwide or countrywide. You need to set the geographic area where you'd want to show your Ads.
Go to Campaign Settings and Audience to change your targeted location for your Local businesses.
Next, choose the countries, cities or regions, where you like your ads to be served to the corresponding Audience. Optionally you can exclude specific towns and regions.
Step 4. Advertising on Google:- Billing
Billing Information is required to activate your account and is the last step of starting your Ads campaign. It's needed to start advertising with Google.
Enter your Billing Address; you'll need to select your country. According to the country, you live in. Payment options can be very.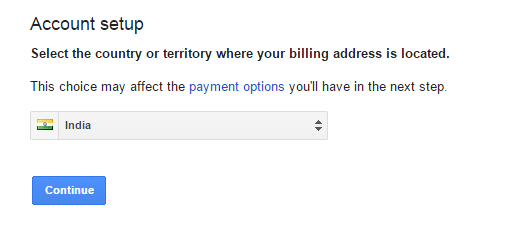 Mostly you have an option to Add Credit- Card for billing purposes.

Other options, May vary according to your billing address and the currency you use.
American Express
JCB
MasterCard
Visa
Bank account payments (The US only)
Debit cards with a MasterCard or Visa logo
Voucher:
Did you get a voucher? Redeem it by going to Billing Tab and Billing and Billing preferences. Here you can enter the coupon code in the Promo Code field.
———————–
Congratulations! You have successfully created your first Ad campaign! Your Ads should successfully be running now.
———————–
Conclusion
A fundamental component of content marketing is spending on paid traffic. And the best option is Advertising with Google's Adwords platform: It's determined to produce quality leads and moreover enhances your business.
So, I hope that answered your queries related to how to advertise on Google, huh? Still got an excuse for not starting advertising on Google?