Are you a keen e-reader??? If yes, you must be having an idea about ePub. The term ePub is an abbreviation of "electronic publication" which is basically an ML, XHTML and CSS technology-based open e-book file format with the extension .epub.
On the other hand, pdf is a portable document format independent from any hardware, software, application, and operating system. Therefore, it is one of the most liked file formats over the internet.
Many e-readers specifically support epub as a file format but some completely refuse to support this file extension. Also, you can't print e-books with .epub extension. In such scenarios, the only question you can think of is how to convert epub to pdf??
Well, there are a number of online web tools that let you convert epub to pdf in just a few clicks. In this guide, we'll walk you through the steps to convert epub to pdf using those tools.
Now without any further ado, let's head over to the guide!
How To Convert Epub To Pdf
There are certainly many tools available for file format conversions say it epub to pdf, pdf to epub, or unquestionably there are many other kinds. But we will, herein, provide you with the top 5 tools as per the ease of their use and quality of results.
Go4ePub is an especially designed website for ePub to pdf and epub to Mobi file conversion and vice versa. It free, fast and safe. The file conversion takes a few seconds in most cases and uploaded files get deleted from the server once the conversion is complete.
The working of Go4ePub is remarkably simple. Just follow the below given three little steps and you are done.
Upload the ePub file which is to be converted from your computer by clicking the Choose File button.
Select the output format whether you want your file to be a PDF or .mobi and click convert. Within a few seconds, the file would be converted
Once the file conversion is complete, just download the converted file.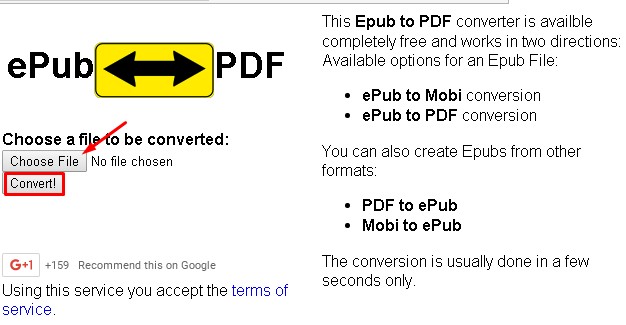 Simple enough, isn't it? Most of the file converters are that simple to work with. Now let's head over to the second file converter in the list.
Zamzar is one of the most famous online file converters. It's absolutely free and very easy to work with. Unlike Go4ePub, it's not limited to only epub file conversions. It offers countless file format conversions onto countless file formats.
The file conversion only takes 4 steps to be followed.
The first step is to choose the file to be converted by it anything including epub. Or you can also drag and drop the file from your computer. It can handle up to 50MB file size for free. If you have an even larger file to convert, you have to go premium.
The second step is to choose the file format you want your file to be converted into.
In the third step, you need to enter the email address where the link to the converted file will be sent.
And the last but not the least, click the Convert button to get the file converted.
Zamzar supports nearly 1200+ file formats which are probably more than any other online file converter.
EPUB Converter is another great epub file converter that is free. It offers a variety of file conversions including EPUB to PDF, EPUB to MOBI, MOBI to EPUB, Kindle to PDF and more! Also, we can convert multi files at the same time which is a good thing and time-saving.
Like the above converters, EPUB is also extremely easy to deal with. The good part of EPUB Converter is that they don't retain the files we have uploaded to their website.
Within two hours of the file upload, the converted file gets deleted from their server. The purpose of keeping the file for two hours is to give the users enough time to get their file download. Steps for file conversion are extremely simple.
Just browse the file from your computer.
Once done, just click the Start Now button. You'll see the progress bar of file upload.
Once done, you'll see a link to your file and a download button on the screen. Just download the file and you are done.
Online convert supports nearly 20 file formats. It's free and flexible. Check the below steps to see how it works.
Just go to the homepage. There you'll see multiple converters, move your cursor over Ebook converter.
Click on the drop-down menu and select the target format. For instance, if you want your file to be converted in pdf format, select Convert to PDF.
Do the optional settings if you want and click on the Convert file. Once the file is converted, download it to your computer.
This is the last converter on the list. It also offers a wide range of file formats to convert from one to another. The file conversion is very convenient and a two-step process. I guess I don't need to mention the steps. Do I??
Just browse the image from your computer or download it from any source, select the input format and click the Convert. It will hardly take a few minutes to get the file fully converted.
These are the online tools for file format conversion. But if you have privacy concerns while uploading your file to the server and you are comfortable converting file formats offline, you can use Calibre and other similar software.
You need to download such software on your computer, browse the epub files and then you can convert them into the desired file format.
Most of the e-readers most probably support epub as a file extension, in fact, some gadgets like the iPod come with some pre-installed apps which only support epub file format specifically.
Conversely, some gadgets can't read epub format leaving you with no option other than converting the epub files to pdf or other. That's the main reason for us in bringing up this guide!!
The tools I've mentioned above are the most famous and useful tools to convert epub to pdf.
If you know any other better tool for this, let us know in the comment box below and do share this guide on the social platforms to help your friends convert the files format from one to another easily!