Are you troubled by the thought if your android cellphone is rooted or not? Looking for answers to questions like How to Check if Your Android Cellphone Is Rooted or Not? Well, that's exactly what I've got here.
It's 2016, there's almost no one who doesn't know what rooted and non-rooted devices are. But just in case you are among the ignorant population of the world, let me tell you it isn't a crime not to know the difference.
In fact, there are quite a number of differences, ups, and downsides of both the versions of android so before getting into details like How to Tell if Android Phone/Tablet is Rooted, let's have a basic insight into the two versions.
What are Rooted Android Devices:-
Well rooted android devices are just your everyday normal android mobiles, tablets, etc which have been modified by the owners in order to grant them "administrator" level privileges.
Well if that phrase is confusing you, let me tell you that when you buy a cell phone, you get "owner" level privileges, you can do anything you think there is to the device, but that's not the truth.
Non-rooted devices allow you only the surface level features, features which you think exist, while the secret here is that there are some features even underneath the surface level which you didn't even know existed.
So basically, rooting an android device will grant you the highest level of the privilege there is to an android device, which is also called "factory" level access.
So if you're buying the device, why keep features from you? That's a legit question. Well, there's a logical answer to that as well.
Rooting the Android device grants you access to features which if used without proper knowledge might corrupt the device. Or another reason being, rooted devices are more vulnerable to third-party attacks, it becomes easier to hack into your devices from the outside.
So overall, the "non-allowance" of the features is a good thing, it keeps your device safe and you out of the harm's way, and that's the reason that if you root your android device, then it also voids the warranty you had on the device so if something goes wrong, you've got a problem.
Should You Root your Android Device:-
So okay now that we know what a rooted android device is, the normal question that arises is, should we?
In my opinion, we are all common people, we don't have high-profile state secrets or nuclear launch codes, and there aren't a lot of people who would take all the time and effort it requires to get into even a rooted android device of people like us.
And on the bright side, the features that rooting unlocks over-weighs the slight risk of security (it's just my personal opinion), so yeah I have a rooted android device.
So the decision of rooting your android device or not is totally your own choice and assessment of the threat-profit value.
How to Check if Your Android Cellphone Is Rooted or Not:-
So okay finally down to the section you've been waiting for. Wanna learn How can I check and see if my phone is rooted?
Now there might be times when you've rooted your device but you're not sure if the process was successful, of course, because it's not as simple as installing an app from play store, or maybe you un-rooted your device and now you need confirmation that your device is back to the normal access level (can help you get back warranty!)
In any case, "verification" is important, right? So how do you check if your android is rooted or not?
Well, of course, this being the not so "legal" thing, there isn't an official option telling you if your android device is rooted or not, but we can still determine the status of your android device.
So what's the solution for you? Luckily enough there are quite a number of Android root checker applications, and they're free.
All you've got to do is, install one of them and they'll just lay out the facts clean and simple.

So head over to Playstore and download this Root checker app. (Any other root checker app would work too!)

And as you can see there's this "verify" tab which lets you know if your android device is rooted or not.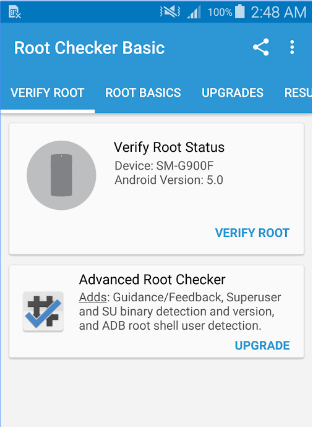 It's as simple as that.
Method to Check for Root Access:-
The other method (a bit more complicated) is to install any terminal from the play store. Just type "terminal" and you'll get tons of them.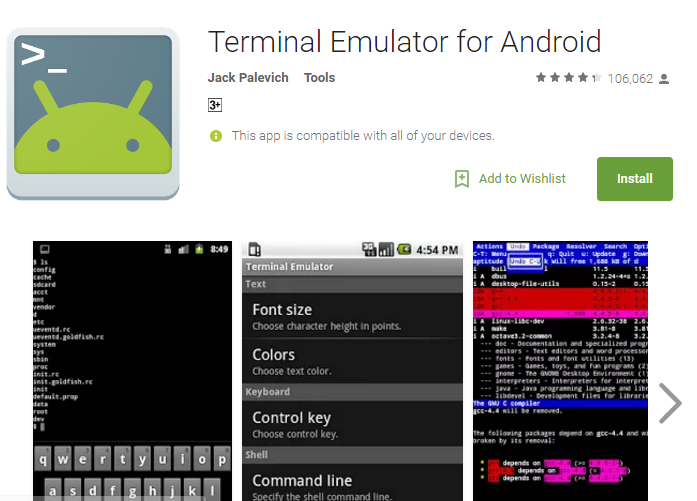 Once you have the application open it and just type "su" without quotes and wait for the response.
If there's any positive response, it means your cell phone is rooted, and if the terminal fails to recognize that command, it means that you aren't a superuser = your cell phone isn't rooted.
Final Words:-
So that was all I had on How to Check if Your Android Cellphone Is Rooted or Not folks. I'm guessing this piece helped? If it did I'd love to hear the feedback from you guys in the comments.
Also if you know other ways to verify if your cell phone has been rooted or not, still do let me know in the comments.
And finally, I really wouldn't mind if you guys hit the share button around and let your social media know of this piece here, could help us get some motivation.